Social & Emotional Learning (SEL)
How Moxie Can Help Students Succeed
Moxie (a blend of positivity, purpose, and volition) helps students count their blessings and evaluate their ongoing strategies to become happier and more successful.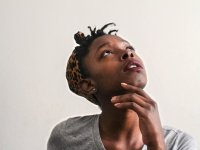 Every student possesses his or her own unique brain physiology, learning needs, goals, and dreams. This mosaic of individualized intricacies creates a singular person that will respond to the world in a singular way. That includes their learning. As much as schools can impact what, why, and how students learn, they cannot control how a student will interact with the learning and pedagogical climate. So what will help students become successful in and out of school?
Angela Duckworth calls it grit. Carol Dweck refers to it as growth mindset. Martin Seligman addresses it as resilience. The one thing that these ideas have in common surrounding student success is moxie. Moxie is courage or determination. It is moxie that this author ascribes as the key to success.
In order to have moxie, one must possess positivity, purpose, and volition.
Positivity
Being positive has been shown to "enhance our relationships, increase our resilience, and even improve our physical health." Positive psychologist Shawn Achor attested, "When we are positive, our brains become more engaged, creative, motivated, energetic, resilient, and productive at work." And in a breakthrough study, our dopamine levels are correlated to how much one perseveres -- which leads to moxie.
If positivity helps people cognitively and physically, driving them to persevere through difficult times, then how can we teach it in the classroom?
What did this individual do to conquer adversity?
What might he or she have been thinking?
How might history been different if he or she had succumbed to adversity?
Purpose
Judy Willis, neurologist and educator, states that strengthening patterns of effort toward achieving goals can result in attaining success. She continues by linking goal achievement to an increase in one's positivity -- which leads to moxie.
How can you teach students to do this?
One method is to establish SMART goals. Teachers can have students write and revisit these goals weekly to reflect on where they are and if there need to be revisions.


Individually confer with students about their goals, asking them where they are with accomplishing them, what they could do to strengthen their efforts, and what assistance or resources they need to help achieve those goals.
Volition
Volition, better known as willpower, is making a conscious decision derived from a personal attachment to a purposeful intention -- another component of moxie. Students who possess strong volition tend to perform better academically (PDF), and volition is key to a successful and happy life.
There are a myriad of exercises and strategies that educators can employ to cultivate volition.
Once students have created their goals, they should address why they selected that specific goal. Too often, people tend to go straight for the what, but to strengthen volition, you must reflect upon the why.


Advise students to find a peer who can help them achieve their goals, keep them on track, or lend a helping hand when they begin to feel discouraged.


Implementation intentions are "if-then" statements considered before executing a decision or action. The rationale behind this technique is that it brings conscious awareness to an intention in the hope of diverting us from making a regretful decision.


Meditation strengthens willpower. Psychologist Kelly McGonigal states, "Practicing mindfulness meditation for a few minutes each day can actually boost willpower by building up gray matter in areas of the brain that regulate emotions and govern decision making." Teachers can have students spend ten minutes a day clearing their minds to focus on their goals and how they intend to achieve them.


Instruct students to create and keep track of deadlines. One study found that individuals who created and followed their own "to do" lists for two weeks (PDF) strengthened their overall willpower.
Embedding the Fundamentals of Moxie
Educational institutions and their teachers want the best for their students -- inevitably for them to succeed both in and out of the classroom, as well as in their future endeavors. The attribute that emerges resolute is moxie. Studies have demonstrated how those with perseverance tend to be happier and more successful. Moxie can be cultivated by providing and embedding opportunities for and exercises of positivity, purpose, and volition within the learning. Consistent practice, along with reflection and metacognition about these three fundamentals, will strengthen students' moxie, which may imminently lead to that quintessential goal: success!
What opportunities do you give your students for developing and displaying moxie?