Curriculum Planning
How the Common Core Supports Deeper Learning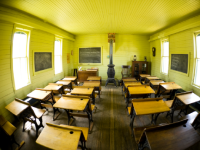 Can the Common Core (CCSS) be an important agent for change? In this post, I argue that it can and explain how.
Our network of schools, Envision, has accomplished excellent results for students during a time of enormous pressure not to focus on deeper learning. The organization was founded in 2001, the same time the federal No Child Left Behind (NCLB) Act was passed.
NCLB, while broadening awareness of the achievement gap, simultaneously narrowed the purpose of our nation's schools, boiling the whole endeavor down to the incremental movement of testing numbers as an attempt to say something about student literacy and numeracy.
Staying Focused on Deeper Learning
Like many others (we've never been alone in our thinking), Envision defined success for its students as something bigger, more aspirational, and with a longer time horizon.
For us, it has always been about preparing students for college and life success, and we never believed that standardized testing alone would get us there. We did what NCLB told us to do, but stayed true to our philosophy of building schools predicated on deeper learning.
Fast forward to today, where we seem to have entered the era of Accountability 2.0. Performance assessment is "trending," and fast -- a concept that for decades, especially the last decade, has been fervently tended to by a small and forward-thinking group of educators. And it's now at the tipping point of becoming mainstream practice in schools across the nation.
From NCLB to the Common Core
Many factors were at work in the Common Core's swift adoption by so many states, but significant among them is the increasingly shared verdict that NCLB, for all its good intentions, demanded accountability without offering any educational vision.
All value was placed on the act of counting, with scant attention paid to exactly what was being counted. A few states held themselves to a high standard, invariably one that was established before NCLB was passed.
Most states, however, opted to test themselves on what could be bubbled in. We now have a decade of evidence to support the aphorism, "What gets tested is what gets taught." And when bubble-in tests define what gets taught, we end up with narrow and shallow curriculum (and federal pressure certainly played a big role in this).
However, the Common Core would never have caught on if it weren't riding a groundswell of recognition that, in order to succeed in the 21st century, our kids need to not only learn content and basic test-taking skills, but also achieve deeper learning outcomes.
The change that the Common Core demands from us is considerable, but it's not radical. Two simple ideas sum up CCSS:
College and career readiness is the primary goal of school.
Higher-order thinking skills, communication skills, and conceptual understandings are just as important as fact-based content knowledge, if not more so.
Is the Common Core an important agent of change? Yes, but is it the driver of change? No. The Common Core is following, not setting, the direction of education. Hundreds of schools, including ours, were Common Core aligned before the standards ever existed.
Properly viewed as an opportunity rather than as a compliance hurdle, the Common Core makes it easier for educators to do what they wanted to do all along.
What's Next?
The next generation of assessment is coming. Beginning this school year, standardized tests -- as administered by the two major assessment consortia, Smarter Balanced and the Partnership for Assessment of Readiness for College and Careers (PARCC) -- will look different from what we've gotten used to.
These new performance assessments will measure skills in higher-order thinking, research, argumentation, data analysis, reading critically across the curriculum, and even speaking and listening.
For more on how we can leverage the Common Core as an opportunity for deeper learning, readers can consider the book, Transforming Schools Using Project-Based Learning, Performance Assessment, and Common Core Standards.
Just published in January of 2015, this book, peppered with quotes and stories from Envision students and teachers, offers a structure for transforming a school into an agent of deeper learning and provides a game plan on how to make transformation truly take hold in a school.
When it comes to these new standards, many educators welcome the coming challenge, but they also need help.
After more than ten years of working within the cramped confines of NCLB, teachers and school leaders are crying out for tools, examples, and coaching that will help them guide their students into the next generation of assessment and, ultimately, the 21st century.
What are your thoughts and ideas on this post? Please share in the comments section below.