Homework
Homework vs. No Homework Is the Wrong Question
Does your school have a homework policy? How does your school ensure that teachers don't overload students with busy work?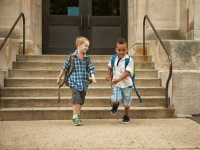 The real question we should be asking is, "What do we believe should happen after the end of the school day to help ensure that students retain what they have learned and are primed to learn more?" Any answer with the word, "work" in its name, as in "homework," is not typically going to be met with eagerness or enthusiasm by students.
Ideally, we want children to understand that they are always learners. In school, we refer to them as "students" but outside of school, as children, they are still learners. So it makes no sense to even advertise a "no homework" policy in a school. It sends the wrong message. The policy should be, "No time-wasting, rote, repetitive tasks will be assigned that lack clear instructional or learning purposes."
A realistic homework strategy should be a key topic of back-to-school night and the first parent-teacher conferences of the school year. But it should also reflect a considered school policy and not simply be up to each individual teacher to carry out according to his or own theory of student learning. Another advantage of this approach is to ensure that individual children are not inadvertently overloaded with demands from teachers who may not know what other teachers are asking of the same student. This is a particular concern in secondary schools.
Home Activities That Matter the Most
Children should be encouraged to read, write, perform arithmetic, better understand the world around them in terms of civics, science, and the arts, and, of course, develop their people skills -- their emotional intelligence. This encouragement should be part of everyday family interactions outside of school, and the school should provide developmental guidance to all parents, in the appropriate languages, to help them do this. For some children, specialized guidance will be needed, and this, too, should be provided proactively to parents.
Some parents will select focused programs or after-school experiences to help foster their children's learning in one or more of the aforementioned areas. To promote equity within and across schools, communities should think about how to make these kinds of experiences available to all children in high-quality ways -- without undue or unrealistic expense to families.
Of course, some teachers will have specific, creative ideas about how learning can be enhanced at home, in the context of particular units of study in school. Maybe what we need is a new word for all this. Instead of "homework," how about "continued learning" or "ongoing growth activities?"
Parents Playing Their Part
Finally, students' learning would be greatly enhanced by schools taking a clear stance about supporting good parenting. My colleague Yoni Schwab and I have written about the importance of parents focusing on parenting as a priority, and secondarily working on assisting schools with educational issues (Elias, M. J., and Schwab, Y., 2004).
Aspects of good parenting that could be encouraged by schools include workshops, family nights, and discussion series on ways to promote:
Children's social-emotional and character development
Parents spending more time directly interacting with their kids in enjoyable ways
Parents visibly showing how much they value the importance of education and effort
Parents monitoring their children's use of and exposure to electronic media
Children's "continued learning" in as many possible opportunities during everyday household routines
Above all, schools should remind parents to never lose sight of modeling for their children the value of close relationships, support, caring, and fun. That is the most important home work of all.
Elias, M. J., and Schwab, Y. (2004). What About Parental Involvement in Parenting? The Case for Home-Focused School-Parent Partnerships. Education Week, 24 (8), 39,41.