Technology Integration
High Possibility Classrooms: Student Agency Through Technology-Enhanced Learning
A study shows how teachers built their in-class technology integration around five conceptions: theory, creativity, public learning, life preparation, and contextual accommodations.
Imagine a classroom where very young students produce beautiful paper puppets that are scanned and then used to inform writing narratives. Picture a classroom where the teacher tells elementary school students on a regular basis: "Questions are more important than answers." Visualize a classroom with long bench-like seats that are set up around work tables and where there is no teacher desk -- a place where the teacher uses a process called Q U E S T and BYOD to support middle school students in understanding what topics in the curriculum are important to them. Envisage a high school classroom where eager students learn film protocols in a digital media unit alongside their visual arts teacher who is a successful Australian filmmaker.
Does this all sound a little too idealistic? Even if you've already created learning spaces like these, there is lot more that we can learn from a new study of Australian school classrooms.
Scenarios described in the opening paragraph capture some of the characteristics of technology-enhanced learning from qualitative research with four exemplary teachers -- Gabby, Gina, Nina, and Kitty -- who taught students in early years, elementary, middle years, and high school classrooms.
Image credit: Jane Hunter
'Figure 1'
The doctoral study of these teachers' classrooms was conducted across a two-year period. The research wanted to find out how a particular group of "high-end early tech adopters" conceptualized their knowledge of technology integration. If we could more deeply understand how excellent teachers (meeting six rigorous criteria) use technology to enhance learning, might their example provide inspiration and fresh approaches for all K-12 teachers?
The 5 Conceptions
What emerged from the data collection and analysis was that exemplary teachers conceived their knowledge of technology integration around five conceptions: theory, creativity, public learning, life preparation, and contextual accommodations.
Within each of these five conceptions (see Figure 1) are multiple themes of teaching practices and student learning processes (see Figure 2) that align with what young people require for their education right now in schools.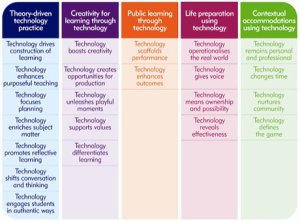 Image credit: Jane Hunter
'Figure 2'
The pedagogical framework inspired by these practices is known as High Possibility Classrooms or HPC (Hunter, 2013; Hunter, 2014; Hunter, 2015). This is teacher knowledge for practice, in practice, and of practice. A summary of how the HPC conceptions and themes work in concert with one another is provided below. Think about whether this is what you already do, or what you could add to your teaching repertoire.
1. Theory
The four exemplary teachers consciously applied their knowledge of education theories (Bruner, Piaget, Vygotsky) when integrating technology into practice. This action related to:
How it drove construction of learning in the classroom
How it enhanced purposeful teaching approaches while also allowing planning to be more focused (the teachers planned hard to teach easy)
Enriching the subject matter that students were learning, and how technology-enhanced learning promoted greater opportunities for reflection
Shifting the students' conversations and thinking
Enabling "authentic" student engagement in in what they were learning (for example, filmmaking protocols when learning how to make films)
2. Creativity
This conception exposed how technology gave students many more ways to be inventive. They could:
Produce or make things
Play ("thick play" fitting with Papert's ideas of hard fun)
Focus on joy and celebration in learning
Benefit from their teachers' differentiation of learning activities
Example: Gabby's six-year-old students created this grammar video using SMART Notebook software:
video
Technology helped to scaffold students' performance, making it easier for them to demonstrate or share their work with others.
Technology enhanced students' learning outcomes -- they liked being in these classrooms, and parents wanted their children to be in classrooms where they did well in all school assessments.
4. Life Preparation
Through this conception, technology in learning gave students:
Ways to understand the world beyond school
A voice
A sense of ownership over their work as they thought about future career possibilities
The means to bridge the worlds of school and life outside
Example: Gina's math students created a Mythbusters-style video to investigate the correlation between long-jumping ability and the jumpers' heights:
video
Navigate both the personal aspects of their own technology use and how that played out professionally
Examine implications for how the school day was organized (longer blocks of learning time so that students could achieve flow with their learning)
Nurture a community of learners
Define who they were as teachers and what 21st-century teaching meant
Imagine Yourself as a Student
It wasn't always easy to teach in the way that the teachers in this study believed learning should occur, as current structures in many Australian schools focus on testing and often quite narrow assessment regimes.
Common to all four of these teachers was a deep fascination with technology. They did not use it for all learning, but most of the time over the school week. Their approaches varied, but they ended up in the same place: engaged classrooms where students are empowered and given a voice to take control of their own learning. Teachers stepped out of the way.
Recently on Twitter, I saw this comment: "Students run into these kinds of classrooms, not away from them." Would you want to be a learner in your own classroom? In a High Possibility Classroom, there is no denying that teachers and students would say, "Most definitely."
Notes