Education Trends
The Help Desk: Leveraging Student Genius
Andrew Marcinek, creator of Help Desk, reflects on how this student-driven, entrepreneurial tech course has grown, and how it continues to benefit entire school communities.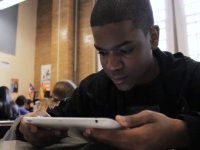 In 2011, when I was hired by Burlington Public Schools as an instructional technology specialist, I was handed two concept courses by then-principal Patrick Larkin. The first was a Web 2.0 course that I eventually transformed into a digital and information literacy course. The second was the concept of designing and creating a student genius bar course that would help support our 1:1 iPad initiative.
The Student Help Desk
Initially, the 1:1 course would focus on helping every student and teacher learn to use an iPad, alleviating some of the support tickets assigned to the IT department which, at the time, consisted of three individuals. But beyond tier 1 support, how would this constitute as a credible course that would appeal to colleges and universities? How would it be taught day to day? How would it be assessed and graded?
The design of the "Student Help Desk" course evolved over the year from tier 1 support to deconstructing problems, testing updates, authoring tutorials, researching new and emerging technologies, and developing passion projects. In short, this course was driven by self-directed learners and student-centered from the outset. Students would find problems throughout the course of the school day and devise a solution or know the right resources to employ. Beyond those pieces, students were concurrently engaged in research projects where they took on a topic that interested them. Some students starting tinkering with XCode (one actually developed several iOS and Android applications), while some researched Google's pursuit of developing an autonomous driving vehicle. There was never downtime, and students also had to manage their projects accordingly.
In addition, students in my Help Desk courses planned and held an Edcamp, presented their own versions of TED talks, presented at various conferences online and in person, met and consulted with school districts and state representatives, beta tested apps for Kuato Studios, met and consulted with both the Massachusetts Commissioner and Secretary of Education, and supported professional development sessions in the summer and through the school year.
The Idea Catches On
I have since left Burlington and handed the reins to Jennifer Scheffer, who has done an exemplary job in evolving the vision of the course. Help Desk even has its own live show, Help Desk Live. I have also witnessed the growth of this course throughout the state of Massachusetts and beyond. Reading Memorial High School has the Rockets Help Desk run by Kerry Gallagher, Andover High School has the Andover Innovation Lab & Help Desk run by Daniel Downs, and Grafton High School has the Tech Force run by Cyndy Engvall and Neil Harrigan. The exciting part for me is seeing what the students ultimately contribute to their schools and communities. I'm proud to be on the forefront of designing such a course, but the real payoff is watching how many schools have adopted this type of course and leveraged the creative genius of their students.
When I began my new role as director of technology for Grafton (Massachusetts) Public Schools, I was elated to hear that my student genius bar model was a part of the high school. And I was given several opportunities to speak and work with students throughout the course of the year.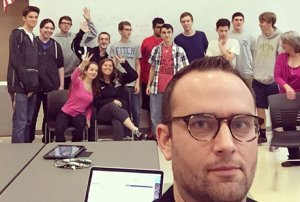 Photo credit: Andrew Marcinek
The author's selfie with the 2014-2015 Grafton High School tech force.
What I see are students eager to solve problems and help their school community. I also see engaged, active learners seeking out answers and asking all the right questions. We recently opened up our ticketing system for our tech force students to access and address help tickets logged at both our high and middle schools (on the same campus). Within a few days of this happening, I received this email from our middle school principal:
The decision to integrate this course seems like a no brainer. In fact, Dean Shareski echoed that sentiment last year at MassCUE 2013 when he connected with Jennifer Scheffer and her class of Help Desk students who were presenting their work.
The basic outline for this course is linked above in the third paragraph of this post and can be remixed as much as you'd like. Take that outline and make it better -- and be sure to share it using the #techteamMA hashtag on Twitter.
Student Creativity and Innovation
Many schools I consult with ask why they should consider offering this course. I don't really elaborate too much on the answer, deferring instead to the students. Designing this course was never about me getting credit for it or about the technology, but rather about giving the students a place that allowed them to be active participants in their learning and make a difference in their respective school community. This is a course I would have signed up for immediately when I was in high school. It's driven by inquiry and curiosity, and it yields creative, innovative experiences and outcomes that align with many of our Common Core standards (and those standards not so common).
In an effort to highlight these courses both nationally and globally, please fill out this Google form. The goal is creating a common, digital space for student-driven courses to connect, share their learning, and highlight their many accomplishments. I hope to see this course grow and evolve into something greater than I could ever have imagined.