Online Learning
Google's Open Course Builder: A Giant Leap into 21st-Century Online Learning
"Google's mission is to organize the world's information and make it universally accessible and useful." -- About Google
Google is the most powerful nonhuman teacher ever known to actual humans. Implicitly and ceaselessly, Google performs formative assessments by collecting the following data: the content, genre and media that interests you most; when and for how long you access your external cloud brain; what your hobbies and routines are; with whom you work and communicate; who will get your November vote; and whether you prefer invigorating clean mint or enamel renewal toothpaste. By continuously refining the nuance of your sociogram, Google has already customized your next web exploration and taught itself to teach.
You Are Now Entering the Learning Management System
Months ago, Google entered the massive open online course (MOOC) space by introducing the free Power Searching with Google course to 150 thousand self-enrolled students (shocker: Google is not particularly concerned with enhancing your use of dozens of alternative search engines). More recently, Google gave away Open Course Builder -- tools that were used to construct its popular course -- and further disrupted traditional notions of who gets to play teacher (anyone) and how many students can take a class for free (1 or 100,000).
If you are an advanced geek, you will be able to author and publish your own e-learning space using Open Course Builder. If you don't know the difference between a .txt file and .jpg, choose a different learning management system (LMS) for now.
I enrolled in Power Searching to assess how Google's tools support 21st-century skills: critical thinking, collaboration, and creativity.
With his gray beard and soothing demeanor, Senior Research Scientist Daniel M. Russell donned an avuncular professor role on streaming video as he explained the course's organization and tests: pre-class, midterm and culminating.
Online learning modules should be intuitive, persuading learners to forget that an infrastructure is unobtrusively guiding their knowledge and skill acquisition. Power Searching is pure course craftsmanship, what you might expect from a team of well-paid (and fed) content geniuses and instructional design experts.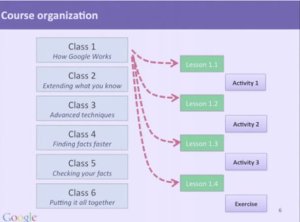 Credit: Google
Course Organization Chart for Google's Open Course Builder
The six 50-minutes classes were easy to navigate. An overview to each class was followed by five or six lessons featuring short introductions to content chunklets. After completing an exercise, students were invited to access supplementary resources and participate on discussion forums facilitated by teacher assistants.
Emails and Hangouts
Creating a simple LMS is not simple, particularly when you are trying to align curriculum and instruction with modern constructivist pedagogy while simultaneously transforming a giant mob of participants into engaged community members. Thankfully, Power Searching did not succumb to the "read-and-quiz" (then repeat) trap; there were many opportunities for watching, discussing, and applying.
Unlike another MOOC for which I signed up last year that subsequently bloated my inbox with pages of single-spaced information written in tiny Helvetica, Power Searching developers were disciplined enough to keep updates and content bite-sized. Moreover, course information was pushed to the spaces where I spend the most time: Gmail and my Google Calendar. Here is what appeared in my Gmail inbox last week:
Hangout 3 with search experts: +Thursday, October 4, 10:00 -10:45pm PT (+1:00pm New York / +6:00pm London / +10:30pm Hyderabad / world time zones) (add to calendar)
Submit questions for search experts: http://goo.gl/mod/zdCw
Class 6 & post-class assessment available: +Friday, October 5
Several emails, like the one below reminded me to join virtual question and answer sessions in Google Hangouts:
During the streaming video discussions in Hangouts, Russell, in rolled up shirtsleeves, talked with charming guest experts like librarian and search geek Tasha Bergson-Michelson about number range operators and site colon queries. "You're not going to break Google by trying things out," said Russell. Experts wore a disarming assortment of jeans and corduroy. Non-Apple (double-shocker) notebook computers were held or rested on the Ikea ottoman in the foreground. Learning needn't be stuffy, right?
Leading Education Online
A handful of extroverts can sometimes dominate a lecture hall discussion. But by employing Google Moderator during Hangout sessions, facilitators democratically answered only questions that participants voted up.
After the final quiz, I was invited to continue my learning adventure by solving Dan Russell's Wednesday search challenges on Google+: "Can you determine how much Thomas Jefferson wrote about wine to his friends?" Answer.
Power Searching with Google challenged students to think critically, even to the point of interrogating Google's first search results. Furthermore, the course offered ample opportunities to communicate and apply new information. Finally, the multi-modal learning environments successfully reinforced content, earning Power Searching a 96% positive rating by its first batch of students.
In the vast and messy education landscape, where does Open Course Builder fit?
According to GigaOm, "Universities are increasingly partnering with online education startups like Coursera, Udacity (which was co-founded by Thrun) and 2tor but, as more schools look to expand their presence online, Google's new tool could be a way to help them do that." Google's model has already inspired Stanford, universities in Spain, and the developers of Udacity and Coursera to re-conceptualize learning online and learning technology. If nothing else, Google has shown how its suite of technologies can be coherently integrated into a learning experience that definitively belongs in the 21st century.