Project-Based Learning (PBL)
Goal Setting for the New School Year
Schools must help kids "build a self" through a range of opportunity and support accounting for both the big picture and the granular details.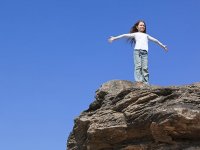 Throughout August, school looms ever larger in the background. Educators and schools are taking stock and beginning to set goals for the new school year.
This can sometimes be a daunting task. To narrow and pinpoint reasonable, achievable, and admirable goals for a new year requires both big-picture thinking and ground-level planning. One of my mentors, Lucinda Lee Katz, used a compelling metaphor to capture the work of goal setting and execution. She described it as requiring boulders (big picture thinking), rocks (the translation of those big ideas), and sand (the execution of the details). Goals that don't contain all three components are doomed to fall short.
Building Selfhood
In a recent New Republic article, author and former Yale professor William Deresiewicz challenges education to focus its work on the lofty notion of the "building of self." He explains:
There's the boulder: "the building of self." What are the rocks?
The translation of this big idea must find its way to students, teachers, and families so that everyone is working from the same script. For schools and districts mired in standardized testing and metrics, it can be tricky to steer the conversation toward what sounds like an abstract goal. However, beyond academic preparation and emphasizing core skills of reading, writing, and math, schools need to maintain a broader purpose of helping young people "build a self."
What does this look like? It can come in the shape of dramatic performances, athletic contests, musical preludes, provocative articles for the school newspaper, service learning, Makerspaces (where tinkering is honored and valued), and global connectivity, just to name a few. Why do schools offer these kinds of experiences? So that students gain "experience" in addition to "education," and through these experiences, the self becomes activated and actualized. It might look like a quiet, reserved student finding his voice in a history classroom, or a student trying out for a team sport that she has never played before, or a student taking a risk and singing a song at a school assembly.
The sand is how these experiences are brought forth in the school day and after school hours, both already packed with demands and expectations. How does a school intentionally and thoughtfully design the details of its schedule so that experiences coincide with education? What is the execution of these various experiences, and what is the messaging around the "why" of doing them?
Deresiewicz cautions against over-packing kids with stuff to build a resume for getting into an elite college:
Instead, he attempts to change the conversation to focus on the importance of building a self and learning to think.
Lessons from Chef
A wonderful summer movie, Chef, captures the power of the experience in learning and the importance of building a self.
The context for the film centers on the challenges and opportunities posed by figuring out one's calling in life, told through the lens of the main character, Carl Casper, and his son, Percy. At the outset, the pressures and demands of being a chef at a popular LA restaurant consume Carl, and he gives less attention to Percy, who grows despondent whenever his father cancels or postpones spending time with him.
In a poignant scene, Carl encounters the limitations of his artistic freedom as a chef, as he is browbeaten into serving the standard fare dishes to a known food critic, who is set to arrive at the restaurant. The restaurant owner, played by Dustin Hoffman, demands that Carl stick to his "hits" in the same way one would expect Mick Jagger to sing "Satisfaction" at a Rolling Stones concert. Carl agrees with a shrug, and the next day his food is panned by the critic in a widely tweeted blog post.
Carl has no idea what Twitter is and asks his son to show him how to set up an account. Percy patiently explains and helps, letting his father know how much he's enjoying their time together. Carl, still baffled by a new medium, discovers the thread of tweets trashing his culinary abilities and sends what he thinks is a private tweet to the food critic. In fact, he just publicly posted a barb at the food critic, who retweets Carl's discontent. The social media disaster escalates, and Carl ultimately quits the restaurant, unsure of what to do next.
Then begins the "experience" of starting a food truck and bringing his son into the business. At first, Percy is a bit of a burden, but his father quickly sees his social media skills as Percy figures out how to maximize tools like Vine and Twitter for full exposure. In turn, Carl instills in Percy the pride in doing superb work, an attention to detail, and the value of serving the highest quality food.
Without realizing it, Carl is helping Percy to build a self -- and Percy is helping Carl to rebuild a self.
This film's message is a wonderful reminder to educators as we gear up for a new school year and consider setting goals. There is no more meaningful goal than to help each child build a self. We can think boulders, rocks, and sand as we determine how to plan for goal setting and creating the space to build a self.