Game-Based Learning
Game-Based Storytelling
March 28, 2014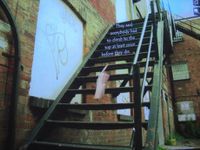 Photo credit: chrissxross via flickr (CC BY-NC-SA 2.0)
All games tell stories. Unlike other media (books, television, film), the interactivity puts the player in the role of protagonist. Writing games can be quite complex and involve more than characters and dialogue. To get a better understanding, read this article by Darby McDevitt, lead writer of Assassin's Creed. He explains the prewriting and production process. Students should be surprised (as was I!) at how sophisticated game writing is.
Games are actually systems of rules, participations and goals. Game-based stories, especially in the narratives of many video games, take place within these interconnected systems. Formally known as systems thinking, it's the way of viewing the world as a series of interlocking causal (cause and effect) feedback loops. For example, in a novel, if the protagonist takes an action, it will always have consequential effects. On a more analytical level, view Shakespeare's Hamlet as a systems model. To teach game storytelling with systems thinking, Scholastic has an PDF detailing how game designers pre-plan.
Storyboards
Video games are a visual medium. Storyboards can be an effective tool to have students design a new game level or write a cut scene, an interlude of drama that breaks up the gameplay and moves the game storyline along. One of the first cut scenes was when Ms. Pac-Man met Pac-Man between game levels. Fast forward over 35 years later, and one finds real Hollywood actors and serious drama. Students can also act out cut scenes from games relating to content. Roleplaying is a fun game mechanic that works well in any setting. Students can also create a spec script episode for an existing TV show, using the characters and situations from a game. This is common on sites like fanfiction.net, where users write and share episodic stories, sequels and scenes.
Storyboards are how movie directors plan before filming scenes. Every shot gets drawn, including camera angles and close-ups, as well as special effects sequencing. Storyboards bear similarities to graphic novels, like Scott Pilgrim vs. the World or The Walking Dead. Unlike comics, the action and dialogue are usually described below the picture. You can have students create storyboards using Storyboard Generator or Storyboard That. As a model, I show the following short video about storyboarding Pixar's Toy Story:
video
Walkthroughs
When gamers get stuck on a level or can't figure out the solution to a problem, they may turn to a walkthrough. Essentially a strategy guide, it can be either a video recording of gameplay or a series of uploaded screenshots. Like book trailer projects, a fun exercise for students would be to take a topic and imagine how a video game would create a walkthrough. Walkthroughs can be an engaging and authentic activity -- plus, "explain" is in the Common Core State Standards! As an exemplar, compare different walkthroughs of 2013's Tomb Raider -- the text-based version and the video wiki.
Episodic Stories and Threaded Endings
Game producers have turned to Hollywood for writing AAA blockbuster game titles. Academy Award-winner Stephen Gaghan (Traffic, Syriana) wrote Call of Duty: Ghosts (2013). The year prior, Dark Knight scribe David S. Goyer was brought in to write Call of Duty: Black Ops II (2012). Goyer told The Guardian that game levels are similar to television episodes -- "each level is like an episode with a beginning, a middle and an end."
He viewed game levels as similar to TV episodes. Students can write new or hidden levels to an existing game, weaving in content from lessons. For ELA students, this is an exercise in creative writing. In social studies, students can re-enact history. Art and music students can design the aesthetics of the game, such as determining what painting or song would be appropriate. Science and math can become an authentic exercise by integrating real-world physics puzzles and challenges.
Telltale Games' The Walking Dead marked a departure from level-based games when it released content in an episodic format. The first episode, available free for iPad (subsequent episodes are about five dollars), has more in common with Choose Your Own Adventure (CYOA) books than your usual zombie video game. The player is given choices, including dialogue and action, which affect further scenes and character interactions.
CYOA can also be created using Microsoft Word or PowerPoint, as well as Apple's Pages or Keynote. At the bottom of each page, insert hyperlinked multiple-choice questions that jump to other pages (or slides) in the story. Numbering pages would enable reading offline. There are also many websites, including AuthorStream, Slideshare and FlipSnack, that host uploads of presentations. (Note: sometimes the document needs to be saved as a PDF, depending on the web application.) Publishing online should be the goal, especially since students can comment and engage in a class-based participatory community.
In games, the player makes decisions based on the perspective of someone else. This differs from other more passive media, like film, novels and television, where the viewer is the observer. Giving students an opportunity to reflect on games they've played, while weaving in class content, can add a layer of fun and authenticity!