Blended Learning
"Fliperentiated" Instruction: How to Create the Customizable Classroom
By combining the flipped learning model with differentiated instruction, teachers can quickly and efficiently mobilize their students in "right size" learning activities.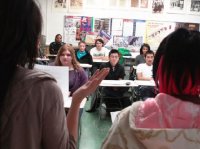 In a rapidly changing learning landscape, educators of all stripes still coalesce around two steady beliefs:
Students perform best under conditions that activate their preferred learning style.
There is no greater predictor of success than a fantastic teacher.
Effective teaching has long put the unique interests of the learner up front, allowing teachers to meet the needs of more students more of the time. Now, advocates of differentiated instruction have found a true partner in the form of flipped learning, the pedagogical approach in which direct instruction moves from the group learning space to the individual learning space.
Call it "fliperentiated" instruction.
What Happens
Differentiated instruction is noted for, among other features, flexible groupings, scaffolded content, diverse instruction, and student choice. It challenges teachers to be more responsive to each student's readiness, learning style, and prior knowledge. A differentiated classroom resembles a chamber orchestra, with different students playing different notes at different times, as their teacher conducts their learning simultaneously.
The stubborn part about differentiation, of course, is trying to synchronize the learning of an entire class in which not every student learns or does the same thing at the same time. Here is where flipped learning can provide a lifeline. By moving some of the entry-level learning goals outside of the classroom -- largely (but not exclusively) through self-paced, scored video instruction -- teachers can mobilize their students in "right size" learning activities immediately upon arrival. These live classroom activities (ranging from small groups to partnerships to direct instruction) draw upon and build out the content studied in the individual learning space (perhaps the night before at home). In effect, students first explore their learning on a single, self-guided path, but then navigate, with others, a map of interlocking trails to discover their ultimate destination.
Getting Started
Effective fliperentiated instruction requires careful and intentional planning on the part of teachers. Creating or curating dynamic video content is the most visible but least critical step in the planning process. Teachers can ensure strong learning environments and outcomes by first tackling these essential action steps:
1. Begin with the end in mind.
Championed by Grant Wiggins and Jay McTighe in Understanding by Design as the model for backward design, this planning outlook is a must-do before teachers begin to fliperentiate. A UBD punch list might include:
Devising essential questions for the unit
Identifying the enduring understandings that students will ultimately reach
Segmenting learning targets into "online" and "live" instructional domains
Planning high-quality assessments that measure learning along a continuum of knowledge and skills
Anticipating the needs of mixed-ability learners
Developing rich, content-specific activities around these needs
Planning meaningful ways for students to demonstrate their understandings.
2. Know the score.
Find a platform that lets students respond to questions in real time as they watch the instructional videos. (eduCanon and Microsoft's Office Mix also let teachers access score reports -- for free.) The data trail will confirm that students actually tuned in before coming to class and will help teachers assign students to the right activity hub (based on readiness) when instruction resumes.
3. Reframe your role.
The teacher's role in a fliperentiated classroom becomes even more important -- just less visible. Having already delivered the basics before class, teachers can devote their skills and expertise to nobler pursuits, such as facilitating a small-group discussion, providing direct support to an uncertain student, or conducting an activity with a high-performing team. All of this can occur while the rest of the class is engaged in student-centered, differentiated alternatives, which teachers can plan ahead of time. This puts the needs of the learner front and center, with a stronger emphasis on observing, questioning, and analyzing student learning. In a fliperentiated classroom, the farther the teacher moves from the center, the closer the student moves toward it.
Outcomes and Benefits
The payoff from fliperentiated instruction is significant. Teachers will recapture instructional time that can be used to deepen learning. Student engagement will likely rise due to more personalized contact with information. And a richer culture of collaboration will emerge among students who learn to work together. If differentiation is the engine, flipped learning is the grease. Used synchronously, they can power a learning experience that gets students moving faster and farther than ever before.