5-Minute Film Festival
5-Minute Film Festival: Comics in the Classroom
September 11, 2015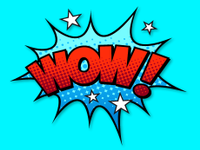 Bam! Pow! Wham! These aren't your typical vocabulary words, but you'll see the sound effects often in the world of comic books and graphic novels. Many students, particularly boys (and lately, more and more girls) are reading comic books in their free time. Comics have inspired me, challenged me, and contributed significantly to my love of reading and the arts as an adult. 
In recent years, graphic novels have expanded beyond superhero storylines, and offer many teaching opportunities for educators who want to take advantage of their broad appeal and themes. Read on, and watch the videos below, to find out how to add some bam! to your classroom. 
Video Playlist: Comics in the Classroom
Watch the first video below, or watch the whole playlist on YouTube.
More Resources on Using Comics and Graphic Novels in the Classroom
For more ideas on how to bring graphic novels into your class, check out these websites and articles: