Literacy
5-Minute Film Festival: Summer Reading for Students
Summer is the perfect time to catch up on reading, but where to start? There are so many great books out there. This video playlist provides some inspiration to get kids reading over the break.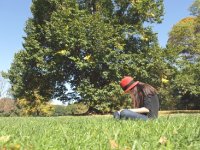 Without the strict deadlines or content requirements that the regular school year imposes, summer offers many students (and teachers!) the opportunity to rediscover reading as a fun leisure activity, instead of something they're being forced to do. An added benefit is that reading regularly over the summer months -- even "silly" or less serious books -- can help prevent the summer learning slide. So kick back, relax, and pick up a book! Perhaps your next favorite is on the list below.
Video Playlist: Summer Reading for Students
Watch the first video below, or watch the whole playlist on YouTube
video
More Resources on Summer Reading for Students
If none of these six books seem to interest you or your students, never fear! There are so many more stories to choose from. Check out the resources below for more lists, including recommendations for young readers, scifi books, and the classics!