Environmental Education
5-Minute Film Festival: School Gardens
This video playlist goes outdoors to check out school gardens around the country. School gardens provide great green lessons about cooperation, sustainability, and stewardship of the earth.
April 6, 2012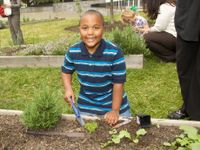 Photo credit: US Department of Education via flickr (CC BY 2.0)
Spring has sprung, and it's time to start thinking about getting outside and planting green things! School gardens are a great way to teach kids hands-on science. Whether you have a full garden where the kids produce their own cafeteria food, or you're just getting started and egg-crate seedlings are more your pace, you can pull valuable lessons in ecology, sustainability, healthy food habits, and teamwork out of the dirt.
Video Playlist: Great School Gardens
Watch the first video below, or watch the whole playlist on​ ​​​​​​YouTube.
Starting a School Garden (06:38)

A fun video with nuts and bolts details on how to lay the groundwork for a new school garden.

Sustainable Urban School Farm: The Greenhouse Project (02:02)

An exciting project that brings a rooftop greenhouse garden to New York City to teach the kids about sustainability.

School Sprouts: Birth of a Garden (07:48)

Adorable video with kids showing off their boxed garden in an urban school surrounded by concrete.

Creating School Garden Rules (05:07)

Helpful guide to making rules with the students, for teachers who might worry about managing behavior in the garden.

Composting at Crawford High School (02:41)

Paid garden interns at San Diego's Crawford High School learn about composting and growing food.

Raised Beds in the City (02:30)

Garden Girl explains why raised beds are the best in urban settings and gives some basic directions.

TEDxManhattan - Stephen Ritz - Green Bronx Machine (14:42)

This infectiously enthusiastic teacher's classroom in the Bronx featured the first indoor edible wall in NYC and feeds 450 students.

The Edible Schoolyard Yields Seed-to-Table Learning (07:04)

Berkeley's Edible Schoolyard is an incredible program that helps urban middle school kids grow their own lunch.

Educational Reflection Garden (High School) (03:44)

High school students in Saginaw, Michigan present information about the garden they are building.

Fresh Ideas in Action #3: School Gardens in Early Education (06:40)

Educators in West Virginia help their students connect with the food source and get excited about what they eat.

History of School Gardens (Library of Congress) (17:46)

A great (if long!) video from the Library of Congress about the history of the school garden in America.
More Resources for Learning from School Gardens
Online resources are bountiful, for novice dirt-diggers and advanced green thumbs alike. The long-running Edible Schoolyard project just launched a beautiful new website a few days ago serving up a searchable network of school gardens, kitchens, and lunch programs worldwide, and made all their resources freely available. Organizations like School Garden Wizard, the Children's Garden Network, and Garden ABC's offer tools for making the case to get a garden, lessons plans for learning from the garden, and ideas for sustaining the garden once it's established. And all of them offer lists of links to other like-minded folks, local and global. There's even a #SchoolGardenChat every Thursday at 6PM PST on Twitter, hosted by School Garden Weekly. What more do you need? Get out there and start digging!