School Libraries
5-Minute Film Festival: Reimagining the Library
In honor of the 30th anniversary of School Library Month, VideoAmy has produced a list of interesting and insightful videos and resources that explore the future of the school library.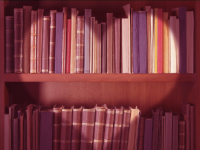 April 2015 marks the 30th anniversary of School Library Month. As our libraries evolve in the age of digital information, they need our help more than ever to stay well-funded and supported so they can grow in their critical role as advocates of technology and information literacy. Should they become learning commons, gathering places for trading information, technology hotspots, makerspaces, or all of the above? The possibilities are wide open, as you'll see in this playlist of videos about the future of libraries.
Video Playlist: Reimagining the Library
Watch the first video below, or watch the whole playlist on YouTube.
video
More Resources on the Future of Libraries
Far from the stern and shushing stereotype, teacher librarians and library media specialists are poised to become key innovators and advocates for multiple literacies in our schools as we move forward. And libraries around the country are becoming hives of activity, centers for connection and creation as well as consumption of content. How will you support your school's library?