Literacy
5-Minute Film Festival: Celebrating Poetry Month
April 27, 2012
Updated March 11, 2016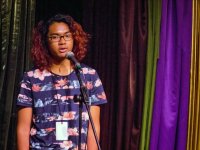 There's no doubt that when taught well, poetry can get kids excited about reading, writing, performing, and finding their voice. As we approach the beginning of April, which is National Poetry Month, I've put together a selection of videos about the power of poetry for young people -- both in the classroom and beyond.
Video Playlist: Celebrate Poetry Month!
Watch the first video below, or watch the whole playlist on YouTube.
video
More Ways to Celebrate Poetry Month
Whether you feel like a seasoned beat poet, or are just dipping your toes into the world of poetry reading and performance, there are many ways to bring poetry into the classroom. Visit the landing page for educators on the National Poetry Month website for lesson plan ideas and resources. Organizations like Read Write Think and Reading Rockets offer guidelines and curriculum for teachers as well. Ready to get your kids up on stage? Check out national organizations like Youth Speaks, Global Writes, and Poetry Out Loud for ideas, or do some research to find a local organization near your school.