Literacy
5-Minute Film Festival: The Power of Spoken Word Poetry
It's National Poetry Month. Here Edutopia's VideoAmy highlights some videos and resources to engage students in her favorite genre — spoken word poetry.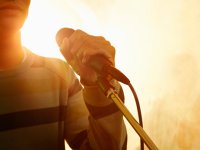 April is National Poetry Month, and since I wrote a 5-Minute Film Fest on poetry in general a few years ago, I thought I'd focus on my favorite style of performance poetry: spoken word. When done well, spoken word has the power to move and enthrall audiences, and it can be an incredible tool for amplifying voices less heard in the mainstream. I've collected a few videos of spoken word poems for you to enjoy -- by teachers, by students, or about issues in schools. Be forewarned: spoken word is known for often including raw language or sensitive themes (in the service of preserving authentic voice). As with any video you plan to use in your classroom, preview first!
Video Playlist: The Power of Spoken Word Poetry
Watch the first video below, or watch the whole playlist on YouTube.
video
More Resources for Using Spoken Word Poetry in the Classroom
Spoken word poetry can be an fantastic way to engage your class, to bring text alive, and to encourage student voice. There are lots of organizations out there dedicated to youth voices and performance poetry, and in addition to linking to a few of those, I've collected some articles and lesson plans about using spoken word in the classroom. Remember, even though I have included a few classroom-friendly lists of spoken word links, you should still preview all of these videos and make choices depending on the age of your kids and your own school's policies about language and challenging topics. But I encourage you and your kids to get inspired, get creative, and speak out!