Teaching Strategies
5-Minute Film Festival: Happy Independence Day!
To help you celebrate Independence Day, Edutopia's VideoAmy has put together a Fourth-of-July-themed collection of inspiring, interesting, and fun videos.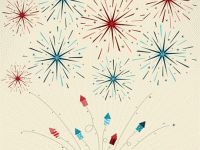 For many Americans, the Fourth of July means feasting, family, and fireworks. And of course, this favorite hot-weather holiday marks the day the Declaration of Independence was adopted in 1776. Although it's long been debated whether the document was actually signed on the fourth of July, the date has become iconic and is cause for celebration around the country. I've gathered a playlist of quasi-educational videos about Independence Day -- to learn a little more, but mostly for summertime fun.
Video Playlist: Fourth of July for Teachers
Watch the first video below, or watch the whole playlist on YouTube.
video
More Resources for the Fourth of July