Student Engagement
5-Minute Film Festival: Graduation Time
From inspirational elocutions to gutsy send-ups of the system, the long-held tradition of the commencement speech is a must at graduations from kindergarten to college. VideoAmy has assembled this playlist of the best speeches, pranks, and songs for celebrating that momentous occasion.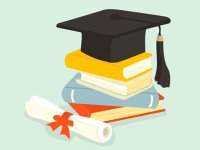 The end of school is near, and it's time for that springtime tradition of long-winded uplifting graduation speeches and heartfelt off-key renditions of the Star Spangled Banner. At the university level, celebrities don robes and dole out kernels of wisdom to fresh-faced graduates. At high schools around the world, eager valedictorians wax poetic about the future while fidgety seniors toss beach balls around. Even for the very youngest students, graduation ceremonies are made into special occasions and flowery speeches are brought forth.
I promise you won't have to sit through any yawn-inducing hour-long dispatches. Instead, I've got the most inspirational moments and the most ridiculous mishaps during commencement ceremonies that I could find. Enjoy, despite the shaky cameras and poor audio that seem to be the hallmark of all graduation speech videos!
Video Playlist: Graduation Speeches
Watch the first video below, or watch the whole playlist on YouTube.
video
Making Sure Every Student Has a Chance to Graduate
Pranks and flash mobs aside, teachers are the ones charged with the responsibility for everything that leads up to that much-lauded walk to the podium. Here are some groups that are working to keep kids in school.
Editor's Note: This post originally published on April 25th, 2012.