Brain-Based Learning
5-Minute Film Festival: Learning and the Brain
As new findings in neuroscience imply applications in the classroom and beyond, it's important for educators to have a basic understanding of how our brains work. VideoAmy has gathered a collection of videos about the brain to get you thinking.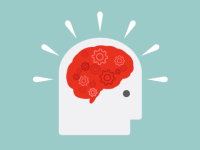 Is there anything as mysterious and intriguing as the human brain? It's at the center of everything we do and everything we've created, and yet we're just beginning to understand how it works. Brain Awareness Week is coming on March 10th - 16th -- a campaign to promote the value of brain research -- so I've gathered some fascinating videos to help us explore how we're wired. I'm no scientist, but I do know that as the field of neuroscience advances and new discoveries are made, the implications for teaching and learning get more compelling. So enjoy this little primer on brains and get your thinking caps on!
Video Playlist: A Celebration of the Brain
Watch the first video below, or watch the whole playlist on​ ​​​​​​YouTube.
video
More Resources on Brain-Based Learning