Technology Integration
Face-to-Face vs. Online Learning: Why Is It Either/Or?
Communication skills and growth mindset are critical in adopting a schoolwide online program because, regardless of the technology, these skills are the heart of learning.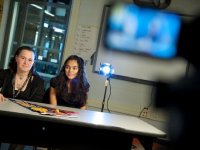 In the film The Intern, a 70-year-old senior citizen named Ben Whittaker (Robert DeNiro), applies for a "senior" internship with a fashion tech start-up experiencing explosive growth. The interview process requires him to submit a video. Uncertain how to make a video, Ben enlists his nine-year-old grandson and wows the company with his warmth and personality. Ben gets the job.
He brings real-life experience to his new role, and his high EQ brings dividends to the company's fast-moving, overcommitted CEO, who learns to appreciate and value Ben for his sincerity and integrity. His "old school" approach finds him in a suit and tie each day, while his younger colleagues wear t-shirts and don't shave. Ben's charm is that he is skilled at and values conversation.
In "Reclaiming Conversation," a recent New York Times op-ed piece, Professor Sherry Turkle writes:
And in The Intern, Ben challenges CEO Jules Ostin (Anne Hathaway) to learn who she is through conversation, listening, and empathy.
As schools continue the march into online and blended learning, there's much to take away from the lessons of Ben Whittaker. The approach doesn't need to be either face-to-face or online. It can be both. With a growth mindset, we can be open to new ways and modes of connecting.
Global Online Academy
Our school recently joined Global Online Academy, providing our students the opportunity to take online courses as part of a consortium of independent schools around the world.
One of the students' first online course activities was creating an introductory video to post to the class platform. Several chose a quiet space to film their introduction. However, one student chose the center of the library surrounded by peers, explaining, "I want them to see me in my surroundings!"
Through this exercise, the Global Online Academy instructors learn much about their new students and build community online. In the early days and weeks of the class, students work together in discussion groups via Skype and comment on each other's written work on a class blog. Even though they don't meet in person, they're getting to know each other online and making choices about what to post and share.
When I asked one student about norms for appropriate discussion and sharing online, she described an implicit understanding that what and how they share will be done appropriately. She also expressed self-awareness about the classroom community and the importance of building a positive culture for the class.
Too often, adults assume the worst about kids' online behavior instead of seeing the best. The facts are that teens know how to build community online -- and they're already doing it. A recent Pew survey of teens and online behavior (as reported by The New York Times) revealed:
Our students' experiences in Global Online Academy mirror the Pew findings -- students are forging new relationships, yet not meeting face-to-face.
7 Stages of Development
There's a clear path to online learning, matched with strong face-to-face interactions. Schools should be nimble enough to incorporate both modes of learning. And what does the path to successful digital learning look like? Here are the stages of development:
1. Clean up infrastructure.
Take care of "blocking and tackling." This is essential to any success with digital learning environments. If there isn't enough bandwidth for smooth wireless access, frustration builds. Overestimate what you'll need so that you won't have to backtrack and backfill.
2. Go 1:1.
Shift away from laptop carts and toward individual devices. The 1:1 model encourages and facilitates a digital learning environment.
3. Find the right LMS.
Our move to Schoology has been relatively seamless, with adoption increasing each year since we began. The Facebook-like user interface appeals to both students and teachers, and the discussion forums, calendaring, and direct messaging features are formidable.
4. Consider ergonomics and surfaces.
Single desks are not conducive to digital learning environments. Tables work much better to promote collaboration and the ability to spread out with a device.
5. Embrace teamwork and collaboration.
Set up teaching teams to collaborate on a course. If possible, set up departmental shared offices so that ideas and skills begin cross-pollinating. The learning and adoption curve increases dramatically with collaborative teaching teams and group offices.
6. Communicate with and educate the parent community.
Remember that parents didn't grow up learning in digital environments. They need clear, compelling examples that illustrate value. Form a committee of parents and teachers, and have students present them with examples. This inspires and enables committee members to become ambassadors and storytellers promoting the value of digital learning environments.
7. Find the right consortium for online learning.
Our move to Global Online Academy made sense for our school and exponentially increased our elective offerings. The number one reason that our students chose to take a Global Online Academy course was the topics available, from Medical Problem Solving to Global Health.
The "Why" of Technology Adoption
Throughout these seven stages, regular feedback loops are critical for making real-time adjustments and fixes. Hold focus group discussions with students, teachers, and parents, and use the feedback to modify and improve delivery.
It's also important for school leadership to model a growth mindset. When the road gets bumpy and unpredictable, consider Ben Whittaker from The Intern as a useful model of someone who leaned into a different learning environment instead of resisting it, observed his surroundings, and found points of entry while maintaining the values of personal interaction, conversation, and relationship building.
Perhaps most important, remember the "why" of technology adoption and evolution. Philips Andover Head of School John Palfrey articulates this well in "Prepare Kids for the Digital Economy," a recent opinion piece for the Boston Globe:
Ben Whittaker witnessed the value of the digital economy and discovered a way of bringing his best self to help make a community stronger and better. Even though digital learning environments can look different on the surface, people and relationships lie at the root of success. Schools would do well to follow Ben's lead.