Arts Integration
Combating Experiential Deficiencies for At-Risk Students
By adding the humanities to every facet of curriculum, you can enrich the learning possibilities for students who might otherwise miss out on cultural offerings.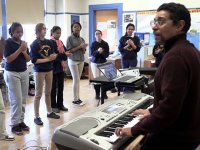 When we think of at-risk students, it's easy to point to income levels and geography as the reasons why they are falling behind. But an often-overlooked contributor to this ever-widening gap is the fact that at-risk students come into school at a deficit of experience, especially around the humanities. They just don't have the same context as a student who has had the opportunity to experience his or her community's cultural offerings. And for so many children, without certain experiences in childhood, they may never discover an interest in anthropology, history, design, or photography. This contextual deficit means that these students will be further behind their peers at every stage of their life, extending to college and careers.
A More Rigorous Curriculum Isn't Enough
We are seeing a push for rigor in education -- with stronger standards and an eye toward globalization -- to level the playing field for all learners. And while it certainly helps at-risk student performance to hire more effective teachers and build stronger curriculum interventions, we at HOPE Online Learning Academy Co-Op felt very strongly that there was a correlation between the quickly-expanding education gap and the decline in funding for arts programs. Without the opportunity to explore the arts in school, many students miss out entirely on an incredibly valuable part of their education.
We knew that trying to increase arts programs would be a worthwhile expense, but like many schools, our budget was impossibly tight. So we sat down to figure out a way to reconcile lack of funding with our desire to bridge that gap.
Our Answer to the Problem at Hand
Five years ago, we implemented Arts Across Cultures. The program brings in world-class artists to mentor students across several artistic disciplines, including dance, visual arts, mixed media, and music. The instructors share their culture with the students, removing borders and allowing the students to foster an appreciation for other cultures while building a sense of community. The lessons provide them with an incredibly valuable cultural perspective and the opportunity to share their own culture with their fellow students. These activities help the students build self-confidence as well as collaboration skills. They are actively involved in creating and have opportunities to express themselves. This program complements lessons in other subjects, and students perform better in their other classes as a result.
Scaling the Program for Your School
The biggest challenge of this program is not monetary, though. It's human capital. A program like Arts Across Cultures requires a tremendous amount of coordination, vision, and dedication. This isn't a tangible expense, but it can be an obstacle to implementation for schools unable to make those charitable commitments.
So while the program is certainly replicable, we understand the challenges to implementation. The good news is that there are myriad small ways you can begin incorporating the ideas and philosophies of Arts Across Cultures into your school. I recommend the following:
1. Try to add a humanities component to curriculum instruction whenever possible.
Studying the Civil War? Identify a local performer to recite the Gettysburg Address. Or show students selected paintings depicting the events of the battlefield. This will make the lesson more meaningful and contextually rich.
2. Don't be afraid to ask for community involvement.
Most artists enjoy sharing their passion with others. Identify parents or other community members willing to demonstrate their skill with your students.
3. Start as early as possible.
The earlier you can address this deficit of experience, the better. You may think that first graders wouldn't understand the significance or emotional relevance of art, but it may spark an interest and connect them to their learning in powerful ways.
4. Identify cheerleaders willing to champion the effort.
Every school has them -- those teachers or administrators or volunteers who find real value in cultural learning. Tap them to help lead the charge.
5. Make experiential education a priority.
Take advantage of opportunities in your local community. Field trips may not be in the budget, but many art institutions offer community outreach programs that bring the cultural experience to your school.
For at-risk students to be successful, educating them in culture and the humanities is just as critical as high-quality curriculum. And while we are using more rigorous standards to level the playing field, we can't ignore that incorporating cultural experience into our early education efforts will result in more confident, globalized students, regardless of income brackets.