Social & Emotional Learning (SEL)
"Come and Play, Everything's A-OK" in the Responsive Classroom
The Responsive Classroom approach is founded on the idea that social-emotional growth and academic improvement are equally important and that learning occurs through social interaction.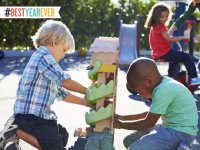 During a debate about social-emotional learning (SEL), an education major argued, "We don't have time to teach that touchy-feely stuff." Her eyes burned. I suspect that she could have profited from better emotional encounters during her formative years.
"The real world is hard and so is the business world," she said. "Kids shouldn't be babied. They need to toughen up."
"Tell me if I'm accurately interpreting what you just said," I responded. "You believe that the adult world is brutal. For that reason, we should withhold tools to make kids' present and future lives emotionally rich and meaningful."
The education major thought for a moment, and then said emphatically, "Right." I felt a pang of sorrow for her future students.
The Responsive Classroom
The Responsive Classroom (RC) approach is founded on the idea that social-emotional growth and academic improvement are equally important and that learning occurs through social interaction. It's an approach to learning that teachers support because it promotes pro-social behaviors rather than waiting to address conflicts, like bullying, after they flare up. Responsive Classroom describes these and other principles that guide the model.
The Responsive Classroom has been researched extensively and found to successfully engage students' hearts and minds. Specifically:
RC is documented to "raise academic achievement, improve teacher-student interactions, and promote high quality instruction in mathematics."
A longitudinal study of 2904 students (PDF, 100KB), from the beginning of second grade to the end of fifth grade in 24 schools, showed a "significant indirect effect; teachers' use of RC practices mediated a positive relation between the RC approach and achievement outcomes (effect size = .21 for math, .28 for reading)."
In 2008, Jefferson County Public Schools implemented an RC program, CARE for Kids, in 150 schools. Besides creating happier elementary school environments, CARE for Kids boosted scores in reading, math, science, and social studies far more when teachers implemented all components of the program.
The pro-social ideas of the Responsive Classroom are not new. They were dramatized on TV when Sesame Street's Big Bird insisted that he was a "golden condor," and on Mr. Rogers' Neighborhood when Santa Claus befriended Daniel Striped Tiger. Enchanted children's programing notwithstanding, kids don't master SEL from watching TV. They learn by doing, which is why RC's classroom routines are so valuable.
Responsive Classroom Components
RC has six elements, according to The University of Minnesota's Center for Advanced Research on Language Acquisition:
Morning Meeting: Building a community of learners in the classroom and throughout the school
Rules and Logical Consequences: Empowering children to develop their own internal locus of control
Guided Discovery: Teaching children about the responsible use and care of materials
Academic Choice: Incorporating student opportunities for choice into the daily routine of the classroom
Classroom Organization: Including active areas and displays in the physical space, as well as a mix of individual, group, and whole-class discussion
Reaching Out to Parents and Guardians: Multiple channels of communication and training of parents.
The Morning Meeting
If Pinterest is a gauge of popularity, the most celebrated component of RC is the morning meeting, a 20- to 30-minute daily gathering of students with their teacher. As described by Lisa Dabbs in her Edutopia post, the goals of the morning meeting are to set the tone for respectful learning, establish trust, help students feel that they are significant, and develop empathy and collaboration skills.
During the RC morning meetings, after the greeting and sharing time, students ask clarifying questions or empathize with their peers. Then learners practice social or academic skills -- often in the form of a game or dramatization. Finally, students read and respond to a short "morning message" that helps them focus on the academic agenda of the school day.
See those four activities in action by clicking on the links below:
Also watch Madeline Noonan, a fifth grade teacher, host an effective morning meeting on the Teaching Channel. A student facilitates the reflection exercise: "Breath in, breath out. Think about one thing that you did well yesterday and what you could do better today."
What about the upper grades? A teacher in St. Lucia, Dawn Agdomar, was frustrated by her high school students' pervasive disruptions during homeroom. When she introduced a version of the morning meeting, she was startled by how the secondary students took to it. "They were all in attendance, punctual, and participative. They love the thought of getting to know something personal about their classmates and saying something nice to students in the class."
The most potent socializing force in the world is two or more brains using language for a common positive purpose. That's the power of RC and, dare we say it, the power of love. Long live Big Bird!
What experiences have you had with teaching social-emotional learning or the Responsive Classroom approach?