New Teachers
How My School Is Transitioning to Digital Textbooks: Process (Step 3 of 5)
Use an analog process to help inform a new digital one.
This fall, my high school is transitioning to digital textbooks through a 1:1 program. In this five-part series, I am describing the process we went through to to make this transition.
In the past two installments of this blog series, I covered the organization and building phases of creating an ePub environment in your school. This piece will continue to focus on the process, and feature an analog version of this process orchestrated by Tim Calvin, Burlington High School English teacher and the Burlington High School English department.
Teacher-created text book
Anytime you incorporate new technology, it is good to have a sense of where you came from and where you are going. This is how Mr. Calvin approached introducing the ePub format during the MA digital publication collaborative. Before the digital collaborative attendees moved into their cohorts, Mr. Calvin showed several example texts that the English department created. Calvin then presented the process.
The English department connected and made decisions about what they were going to include in the text. They then sought out free, digital resources for adding content to the texts. All of their material was cited from Project Gutenberg. For the vocabulary units, they used contextual vocabulary words built by the English department team. Team members also wrote original articles and short essays that corresponded with the pieces they were teaching. The end result generated an actual, physical text book that was cited properly, brought together all available resources, and presented a collaborative text made by teachers in order to present a different perspective for students.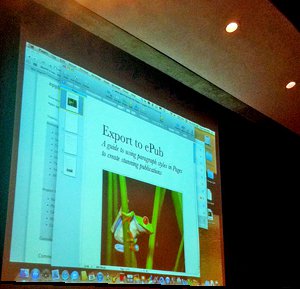 Teacher-created ePub
After explaining the English team's work on the text, Calvin made a segue to ePubs. The same process applies, only the output is presented in a digital format. The digital format allows students more access to the texts, and allows for new types of interaction with the text.
For our digital publication collaborative, we worked with a wikispace for connecting content level cohorts. This space allows all teachers to collaborate, upload resources in a variety of file formats, and upload images and video. This is not the only forum for this type of collaboration, but it presented a consistent forum for all teachers to connect with. A google doc would be a viable alternative for this type of collaboration.
In the cohorts, teachers from a variety of districts started building digital file cabinets for their content area. Resources, both digital and hard copy, were coming together to build a better text. This text would offer a variety of perspectives, present a new level of engagement, and offer a dynamic learning experience.
Once the resources were gathered, some teachers began outlining units. To organize, teachers started building a table of contents into Pages and brought down content from the wikispace. Any media that needed to be cited was cited directly in Pages. Some teachers also incorporated an appendix for citations. Some teachers walked away from the four days with a completed unit or chapter, while some focused on the digitizing resources and organizing digital resources. Regardless of the pace, the goal of the event was to introduce the process and promote content area collaboration within a school or a district.
The creation part of this series is the most flexible. This is the time when teachers can connect and collaborate around a common goal and, in the end, develop their own process and select their own platform for sharing resources. The next phase of this transition is the distribution and classroom integration process. If you have any questions, comments, or suggestions about the ePub transition, please contact me through the comments below or though this blog.