Differentiated Instruction
Enhancing Learning Through Differentiated Technology
Three tech tools — SAS Curriculum Pathways, Newsela, and EDpuzzle — can help differentiate instruction by showing where students are and offering appropriate formative assessment.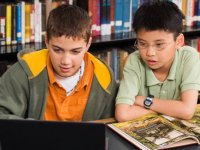 Each day, teachers face the task of helping students stay engaged, show growth, and master the curriculum. How can they do this? Should they open the textbook and start teaching on page one? Should they use ongoing formative assessments to determine the individual needs of the student, also called differentiated instruction (DI)? According to research presented at the International Congress for School Effectiveness and Improvement in January 2011 (PDF, 168KB), "No other factor contributed to the change in student's achievement further than the intervention of DI."
What DI Is and Isn't
Many teachers feel overwhelmed if you mention the words "differentiated instruction." In fact, I was one of those teachers. However, I have since learned that DI is not:
Creating an individual plan for each of my students
Keeping students in stagnant groups based on data from the beginning of the year
Teaching only the lower-level students and letting the higher-level students teach themselves
Students can be in groups based on skills, interests, readiness, or by choice
There is a "purposeful use of flexible grouping" while keeping the lesson's goals in mind
Teachers are "teaching up" and holding students to high standards
Over the last three years, I have found DI easier with the use of technology. Can a teacher just put a student on a computer or tablet and walk away? No. As Michael Petrilli said in EducationNext (Winter 2011), "With the advent of powerful online learning tools. . . students might be able to receive instruction that's truly individualized to their own needs -- differentiation on steroids." Technology has opened the doors for teachers to provide DI without feeling overwhelmed.
Differentiation Through Technology
When searching for technology that promotes differentiated instruction, you should look for how standards correlate, the availability of formative assessments, and options of different skill levels on the same content. Here are three educational technologies that enhance DI in the classroom:
1. SAS Curriculum Pathways
SAS Curriculum Pathways is a free online resource that provides interactive lessons, videos, audio tutorials, and apps for English language arts, mathematics, science, social studies, and Spanish. Teachers browse through the resources using state standards, a keyword, a subject category, or a level. The various interactive resources let students learn, practice skills, and have formative assessments to email, print, or save. This information helps teachers continue to group students based on their needs.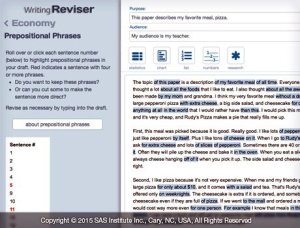 As an ELA teacher, I always needed an extra hand when giving individual feedback to students' essays. SAS Curriculum Pathways' WritingNavigator series allows students to focus on their specific needs. Students have choices throughout the writing process, and teachers can differentiate by giving students a list of basic or higher-level revision elements from which they can select. There is a wide array of choices that focus students on clarity, power, variety, and economy, including wordiness, passive voice, fragments, prepositional phrases, verbs, pronouns, and modifiers. The resource highlights where each chosen element is found within the essay for analysis. If a student needs more assistance, there are examples and descriptions for each element.
2. Newsela
Newsela allows students to read the same current events content, but it is differentiated to fit the needs of the specific student. Teachers assign or students choose articles by topic, reading standard, or lexile level. For each article, students select from five different lexile levels, ranging from grades 3-12. Some articles also have a four-question quiz providing feedback on correlating reading standards.
If you have the Newsela Pro version (they offer a free trial), you can assign articles to students' online binder. Students can highlight selections or answer teacher-created questions within the article. All quiz scores, highlighted information, and written responses are saved in the teacher's online binder to review and make adjustments as needed. This allows for flexible grouping, either by topic, reading skill, or lexile level.
3. EDpuzzle
One benefit of flipped classrooms is having more class time available for differentiated student-centered learning. Although EDpuzzle requires more steps from the teacher compared to the previous resources, I still encourage you to check this one out. Teachers start by uploading a video from another site or one that they created. In EDpuzzle, teachers can crop the video, insert an audio message, record their voice over the entire video, prevent students from fast-forwarding, and embed different types of quiz questions throughout. Then teachers assign students to watch the videos with the appropriate questions or notes. As students watch them and answer questions, the teacher can see how far they watched, how many times they watched a section, and their answers to the questions. This quickly lets teachers know which students completed the flipped classroom lesson, which ones have shown mastery and can move on, and which ones need to spend more time on the concept.
Although students enjoy using technology, a lot of students become even more engaged when they can create. EDpuzzle also allows students to upload a video and show their own learning to share with their teacher or classmates.
Learning From Where They Are
DI may feel overwhelming, but there are technology tools available to help teachers keep students engaged while matching instruction with students' instructional level. We need to allow them the opportunity to learn from where they actually are and not where the textbook or curriculum says they need to be. Differentiated Instruction will allow students to feel successful and empower them to become lifelong learners.