Media Literacy
Empowering Student Relationships With Media
Consider this working with this new taxonomy or ladder of engagement when assigning your students media projects: consuming, curating, creating, critiquing, and publishing.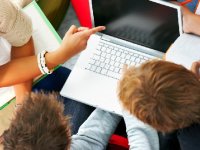 Debates over children and media use are nothing new, but the technologies by which children primarily interact with media have changed significantly. Most guidelines related to "screen time" were developed when television was the dominant media, but new technologies are making us question the value of older research. In its most recent report on the subject, the American Academy of Pediatrics makes reference to "important positive and prosocial effects of media use," and a call for expanding media education programs in schools. While more dedicated media education in schools would be great, it is little more than a pipe dream in the current climate of low budgets and high-stake tests.
It is therefore incumbent on individual educators to help students interact with media in ways that are critical and empowering. We cannot limit this work to media that we have selected for quality or educational value. We should look for ways to engage critical thinking around students' everyday media uses, whether through planned projects and lessons or informal engagement.
A New Taxonomy
In defining empowered uses of media, we have to go beyond notions of screen time or even content (although we can still avoid content that seems harmful or inappropriate). By looking at elements from both the Encoding/Decoding model in communications theory and the New Bloom's Taxonomy, we can create our own taxonomy of media skills. The goal is to help students become aware and empowered decoders of the media they engage with, creating their own meanings and uses from the media.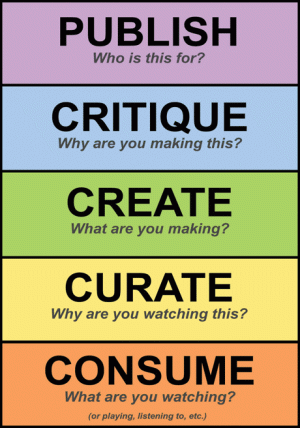 Consume
At the lowest level, we have consumption. Framed by the question, "What are you watching? (or listening to, playing, etc.)," this is engagement in its simplest form. We allow encoded messages to wash over us without question or interpretation.
Curate
This is followed by curation, or "Why are you watching this?" At this level we begin to think about the constructs of the media and how it serves our needs. We identify genre, character, and themes, and we begin to think about why the media is "for" us.
Create
As new technologies have lowered the barriers to creation, so creation moves to a lower position than in Bloom's Taxonomy. This allows creation to be a more formative step in the process of building critical thought. The framing question is "What are you making?" It asks us to think about the elements identified in the curate stage and how they work within our own creations.
Critique
Next we ask, "Why are you making this?" In doing so, we look at our own creations from a more critical perspective with greater understanding of production, our relationship to media, and the encoding/decoding process. The question "Who is this for?" is often the most difficult for children to tackle, and rarely can students define this before they have engaged in the iterative process of creating products and discussing them critically.
Publish
We strive to reach the level of publishing to understand how others may receive our work. This includes the additional layer of understanding the platforms of distribution through which media is disseminated. Unlike sharing, which we do regularly and often indiscriminately, publishing seeks an authentic audience beyond one's classmates, friends, or acquaintances.
Approaching the Project
This taxonomy can be used formally as a process when planning a project that aims to build these critical thinking skills. Certainly this would be applicable in any dedicated media production class. It would also be a useful context for teachers in any subject who may ask their students to do a "video project" (or other media creation project like music, websites, games, etc.). It can be difficult for teachers with little training in media theory and production to focus on more than the content of the finished product when assigning and assessing these types of projects. This framework can help interested teachers include a layer of critical thinking about media onto their projects for science, math, history, literature, etc.
Start by viewing, analyzing, and discussing examples of the type of media that you are asking your students to create. Students are accustomed to consuming media in the classroom for the purpose of conveying content, but are rarely asked to think about the media product itself. Ask students guiding questions about the audio and visual elements, narrative pacing and editing, interactivity, or the creators, audience, and distribution. What do those elements tell you about the media, and how do they affect the way that you decode the content?
When students are ready to move on to creating their own media, the process shouldn't end when they turn in their project. Even if there will be no formal second draft, it is vital to create the space for students to critique their production and to learn from their critical thinking, that of their peers, and your feedback. Clearly separate formative assessment of the production from assessment of the content, which may be summative. If possible, give students the opportunity to continue developing their productions and consider the different perspectives of potential authentic audiences and how to reach them.
Critical Thinking in Action
Administrators can use this taxonomy to consider the bigger picture of how your school's curriculum on the whole -- and the projects that it contains -- can help move students' critical media skills "up the ladder" over a longer period of time.
I also may reference this framework informally when a student comes to me before class and wants to talk about a TV show he or she watched. I might be dismissive of it based on my personal preference toward the content. The taxonomy provides some tools to engage constructively instead. It suggests questions like:
Why did you want to watch this show?
What about this type of show appeals to you -- genre, themes, characters?
This begins leading to thinking about production and audience.
Next, the student could try to create a video including in the production the elements that you've discussed. This creation leads to more critical thinking about production and the values encoded into media by its producer.
That could cycle the student back to creation in the form of editing and refining, and also to begin thinking about audience and the possibility of publishing the product. The most difficult conceptual step is thinking about not only who you have designed the media for, but also how it might be received by viewers outside the target audience. Students can become more aware of their own decoding process, and that others will decode messages differently.
The skills of being a critical media consumer and creator become ingrained, and the potential now exists for all media use to be positive, prosocial, and empowered.
How would you use this model with your students? To what extent are you already using it? Please share your ideas in the comments section below.