Technology Integration
Using Blogs to Engage English-Language Learners
Teacher Jon Schwartz bridges the digital divide with blogging..
Jon Schwartz teaches fourth grade in Oceanside, CA. He is also a writer and a professional photographer. You can learn more about his blogging program at Kids Like Blogs.
"Robbie doesn't write," his mom told me. When he first came into my fourth grade class, asking him for 20 words was like pulling teeth. He actually scribbled a number on top of each word to keep track so he wouldn't write any more than the absolute minimum. Four months after I introduced him to blogging, he's consistently writing more than 100 words per post. Not only that, Robbie turned from a shy, introverted kid to a source of inspiration and information for his peers. He sees himself as a writer.
Working with English-Language Learners
In my class, blogs provide a virtual workbench that students can use to find their creative muse and learn about the technological world they are inheriting.
This year I had a 36-member, fourth/fifth-grade combination class. Twenty three students came from households where English was the second language, or wasn't spoken at all. Most of their parents had a high school education or less, spoke little or no English, worked long hours, and were able to provide limited academic support.
In a classroom like this, we have many challenges. Using blogs as an in-class activity helped my students and me overcome many of these challenges by improving student engagement. It also gave them some valuable technical skills and lessons in digital citizenship.
Build Interest By Making Blogging Optional
Early in the year, I set up two students with blogs. They showed off their work to their peers, and I was besieged with requests from other students. I realized the potential that blogs had and took some time to devise a safe, simple, organized program.
I decided to use the free blogging tool Blogger.com. I gave them a basic overview -- how to publish, how to read and comment on each others' posts, etc.
Then I told them that they were required to write 90- to 100-words per day as part of my class, and gave them the option of turning in their daily writing assignments via the blog or traditional paper and pen. Nearly all the students gravitated to the blogs.
The goal was not to create another assignment, but rather turn them on to something really cool with some real world applicability and skills. It was amazing to see how many kids jumped on right away and completely immersed themselves in blogging. Though a handful of students chose the paper and pencil option, the vast majority published their nightly writing assignments via the blogs.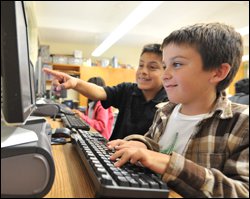 Challenge One: Increasing Parent Engagement
In order to participate in the blog program, we required students to get their parents to send in a request. This was not as difficult as it sounds because we had created a safe program that would ally the parents fears. The kids were so excited that they were motivated to get the signatures and turn them in.
Once I received the parent's request, I invited the parent to come in with their child and learn how to use the Internet as a learning, research, and communication tool. This was particularly rewarding for me because in some cases, this was the parent's first experience with email. I set the parents up with email addresses and even got to teach them how to use the "@" key for the first time. It was an honor for me, and an exciting milestone for them!
Challenge Two: Internet Safety
We used the blogs daily for writing and art. I made sure that my students published their work anonymously. I monitored all posts and trained the children in Internet safety; their blogs contained no personal information or images.
As soon as a student published a new article, I got an instant email on my mobile device, which enabled me to review and moderate the work. Within minutes, I could add encouraging comments and editorial input to their blog. Other readers, including other students in my class, could submit comments too, but they didn't appear on the blog until I approved them.
Students were told to keep their posts rated "G." Anything inappropriate would be reviewed by the principal, their parents, and myself.
Challenge Three: Keeping Students Engaged
When my students started blogging, their creativity and productivity skyrocketed because they knew that their work had the potential to be viewed quickly by an authentic audience that mattered to them. In contrast to the usual slow route that student work takes, from the teacher's inbox to the bulletin board, student folder, backpack, and then kitchen table, these students could tell their peers, educators, and relatives to log in to their blog and check their work the same day.
They could then go into the "back end" of their blog and analyze the statistics page, where they could view demographic information about their readers, including how many viewers they receive daily, which of their articles have received the most page views, and what country their readers live in.
I knew we had hit on something when they started writing on weekends and over vacations. They were coming into class during morning recess just to blog and check their stats, and when they get a hit from somewhere interesting, they often shout out the news with excitement to their peers: "Someone from Australia visited my blog!" Whether the visitor stumbled onto the blog by accident isn't important to the student; it's knowing that through their work, they were connecting to the world.
Challenge Four: Instilling 21st Century Skills
Increasing student motivation and writing productivity aren't the only benefits of our student blogs. We used blogs to learn about digital citizenship, search engine optimization (SEO), Internet research and navigation, proper sourcing, Photoshop, typing skills, marketing, and audience awareness.
Teachers who aren't familiar with more exotic technology like Photoshop and video editing needn't worry; they can still teach 21st century skills to their students by requiring them to create Word, Publisher, and PowerPoint documents, embed photos, credit sources with hyperlinks, and wade through a variety of Internet sites with a critical eye.
Challenge Five: Building Confidence
Although most of the students at my school come from economically disadvantaged households, I found that the vast majority of them had some kind of a computer at home that was hooked up to the Internet; they simply weren't using it for anything other than games. So it wasn't an issue of access.
In my experience, many kids from economically disadvantaged neighborhoods have much less technological training than their affluent counterparts. If they aren't trained to use the computer as a tool for learning, work, and personal growth, they'll not be able to compete in high school, college, and job markets. With this in mind, I spend a lot of time training my students in internet research, digital citizenship, digital and graphic arts, video editing, and blogs. These disciplines can help provide a fresh approach to the content that we're required to teach our students, like learning about the California missions.
The blogs have also proved to be an effective tool for engaging GATE students and students with special needs. One of my students with disabilities is extremely bright but was very shy and hesitant to share his work with others. The blog turned out to be a perfect platform for him to share his work, because he can simply share his blog's URL with his peers and let the work speak for itself. Now that he's gotten over 300 hits in the past four months, he's dreaming of becoming a professional blogger.
Ongoing Interest
To my great delight, some of the students who displayed the greatest interest and drive in blogging were students who came from the least wealthy, least-educated households where no English was spoken. Blogs helped us foster a sense of community and bridge cultural and technological gaps with English-language learners and their families.
Though I can't claim to have brought every child up to grade level, we made some tremendous gains in helping instill a sense of confidence in our students and expanding their skill base. They felt a certain sense of mastery over the computer, and saw themselves as authors and digital citizens for the first time. In fact, as I write this article, class has been out for almost six weeks and some of my students are still blogging!