Education Trends
Edutopia's Top 10 for 2014
By the numbers, our community was all about tips and strategies in 2014, even as members' thoughtful, passionate conversations exploded across our social media channels.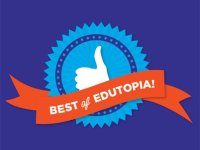 When I was a kid, I was a faithful American Top 40 listener. Each Sunday night, I'd sit and listen to KDWB with my diary, meticulously chronicling each song and its place on the Billboard chart for that week. So in the spirit of countdown nerdery, I must admit that it's kind of exciting for me to be pulling together the Edutopia Top 10 list for 2014. Especially after such an exciting year! Read on for more about that.
Here's What You're Reading
These are 2014's top pieces on Edutopia by the numbers.
For the second year in a row, this post was #1! It talks about the difference between scaffolding and differentiation, and then gives the six strategies. It also includes concrete examples for each one.
To be honest, we weren't sure what people would think of this post. After all, the idea that elementary kids should learn to do anything on computers -- let alone digging into software development -- is still pretty controversial in a world where "screen time" is meted out like candy. But the combination of helpful free or low-cost resources, along with some descriptions for how to implement them, makes this post a dark-horse winner at #2.
If we had a dollar for every time we heard someone ask about the best way to implement formative assessment, we'd be spending the holidays in Bora Bora. Alas, we're not going anywhere, but the good news is that this post offers 54 quick techniques that can be implemented tomorrow.
This valuable post was a big hit, particularly among new teachers. The post also generated some controversy among veteran educators about whether it's appropriate to have noise in your classroom. (The consensus is "yes" -- as long as kids are collaborating and not in chaos.)
Educators know there is a lot of baloney out there about what really works when it comes to teaching kids. This post hit a major nerve with readers in its succinct truth telling.
This one is a perennial favorite, originally published in 2010 and reaching #3 last year. It's chock full of timeless tips including categorizing words into tiers, Robert Marzano's six steps of vocabulary instruction, plus a whole bunch of free resources.
Let's face it, we all experience burnout. This positive and proactive list of tips can help keep your mind, body, and spirits feeling strong in the face of adversity.
A team of designers helped remake one overcrowded classroom into an exciting, effective learning environment. See the specific techniques they used and how you might be able to implement them in your own school.
See one veteran educator's reflections on what she would have done differently with the benefit of hindsight.
Here's another solid tip for educators struggling with classroom management, including ideas for what to say to different types of situations.
Here's What We're Grateful For
We've had a record-breaking year. But more importantly, in the past year, we have:
Been blown away by the thoughtful and passionate conversations among educators at Edutopia.org and across our social media channels (Facebook, Twitter, Google+, and Instagram).
Launched topic pages and personalization features to help you find the resources you need.
Redesigned our Schools That Work coverage, creating more "how-to" resources in response to your feedback.
Been deluged (in a good way!) with people wanting to contribute guest blog posts.
Met thousands of educators who are rethinking the way they work, taking risks, and changing kids' lives.
Noticed that the world is getting awfully crazy, and that education is really, really important.
Thanks for being there with us. We've got some exciting plans and audacious goals for 2015, too. We look forward to changing the world with you next year!