Education Trends
Edutopia's Most Popular Videos of 2015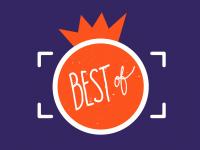 Here at Edutopia, we've had the privilege of visiting so many different kinds of schools and meeting amazing teachers who are working to change education for the better every day. We're so inspired by the work that these teachers do, and grateful that we've been able to share their journeys with the rest of you. As the year's end approaches, we wanted to take a moment to reflect and revisit some of the stories that have resonated the most with our viewers.  
We've collected 10 of our most popular videos from YouTube and Facebook to share again. Click on the player below to watch all those videos in a row, or view them on YouTube.
video
The spaces for learning can have a big effect on how students act at school. Teachers in Albemarle County Public Schools have modified their environments to allow for a variety of learning styles and classroom configurations, helping students be more engaged and ready to learn. 
Putting students in charge of their own parent-teacher conferences has helped students feel more confident in their accomplishments, and led to greater engagement among both students and parents at this Chicago school. 
At Symonds Elementary School, teachers have found a way to offer students support beyond academics, by holding daily morning meetings where students share how they're feeling and offer each other words of encouragement. 
Recess -- in high school? At Montpelier High School in Vermont, students participate in a daily "Unplugged" session where they can challenge each other in board games, work on art projects, play music, and meditate. 
See what you can accomplish when you move away from standardized testing and evaluate the whole child instead! These five key practices are a great starting point for anyone who wants to introduce comprehensive assessment to their classroom. 
At Montpelier High School, biology students grow the salad greens that are then consumed in cafeterias throughout the entire district. This integrated service learning helps students connect their knowledge to real-world outcomes.
Student questions drive the direction of the curriculum at Wildwood IB World Magnet School. See how harnessing students' natural curiosity can lead to better learning outcomes and more interesting classroom conversations. 
A teacher's average workday is so full it's hard to keep up. Some days can be frustrating, and others gratifying. This year for Teacher Appreciation Day, we handed GoPro cameras to real teachers to highlight those little moments that make the biggest difference. 
By building in time to let students choose their own activities once a day, teachers at Humboldt Elementary in Arizona are able to spend more time working with those who need just a little extra help. 
Performance-based assessment helps these teachers in Pennsylvania make sure that students can apply the knowledge they learn in chemistry class to new scenarios. 
Visit our video library to see everything we released this year. We're looking forward to connecting with more schools and educators in 2016!