Classroom Management
4 Early-Year Keys for Effective Classroom Discipline
Effective classroom management starts at the beginning of the year when a teacher clearly and respectfully lays out behavior standards and methods for handling misbehavior.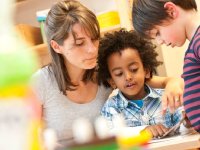 Nothing can undermine a classroom climate that's conducive to learning more quickly than a host of minor disruptive behaviors. These behaviors alone may be no big deal, but collectively they steal instructional time and the positive energy that our students need to attain success. Although effectively managing student behavior is a multifaceted practice, there are four central things that you can -- and should -- do very early in the school year to set the proper tone.
1. Make your first words and actions confident, enthusiastic, and welcoming.
Let your students know how glad you are to meet them or see them again. You might say something like this:
2. Set guidelines for how you plan to handle misbehavior.
Most teachers are good at letting students know routines, rules, and even consequences, but many neglect to share what might be the most important component that preserves everyone's dignity when rules are broken. Tell students that while most of what happens in class will be for everybody to hear, individual feedback including consequences will almost always be given privately. Here are two statements that you might make:
3. Let students know when and how they can give you feedback.
Establish a time and place when students can give you feedback. I like the idea of having "conference time" where students can schedule a time with you for this purpose. If you prefer, have a "Feedback for Teacher" box where students can leave notes to express appreciation as well as suggestions about how you can be a better teacher for them. This could be your message about feedback:
4. Define the difference between fair and equal.
Make clear that if a student breaks a rule, you will do whatever you think is best to help that student fix the mistake:
I invite you to share your effective early-year classroom management strategies to get the year off to a great start.