Learning Environments
Design Tips for Science Learning Spaces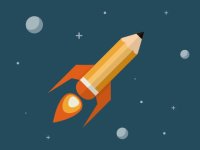 When I was a charter school principal, I had an old building in which I selected a room to be a science lab. I mistakenly thought a room was a room, but thank goodness the science teacher knew what she was doing. I was expecting to say to her, "Here are the keys" and let her prepare the room, but instead, she had a few questions for me: "Where do we keep the chemicals safely?" "What about toxic fumes or eye wash stations?" "How do we store the glassware?" "What about set up and clean up time?" and, "Where do we store the microscopes, triple beam balances, and temperature probes?" I quickly realized that science learning required a lot of specialized learning spaces.
I wish I had the advice then of Dr. Sandra West from Texas State University in San Marcos, Texas. She was a top-notch high school science teacher and now she is an associate professor of biology. Dr. West is one of the co-authors of the National Science Teacher Association Guide to Planning School Science Facilities. I asked her to share some of her wisdom about science learning spaces to help teachers and administrators to plan for adequate science learning from the ground up. And also, how to fix inadequate spaces so that science learning can continue unimpeded.
Edutopia: When it comes to science learning spaces, what is the biggest mistake schools and teachers make?
Dr. West: Schools do not have enough science classroom/labs. For some strange reason the number of science rooms is typically based on an enrollment that almost never incorporates an adequate number of science rooms. For example, a recent conversation with a school architect revealed that the typical plan submitted to a school district for a high school for 2,000 students, where 17 science teachers are needed to teach the three-year science requirement that only 12 science rooms are planned. So, architects and schools plan for only 12 rooms and the first year the school opens with five teachers who have no rooms and have to "float" from room to room on carts. This immediately creates safety and instruction quality problems. The National Science Teacher Association (NSTA) recommends there be a science classroom/lab for each science teacher.  
It's neither safe nor effective science instruction when science teachers have to move from room to room (float) on a cart. The carts must hold the lab materials, equipment, and chemicals to conduct the activities or investigations through crowded hallways during passing periods. There is no time to set up the room for the activities or labs so instructional time is lost and the teacher has to struggle with setting up in a different and unfamiliar room each period.
What are the requirements for an elementary science learning space, middle school science learning space, and high school science learning space?
Dr. West: One problem is that most of the current science classroom/labs are too small. The NSTA Guide to Planning School Science Facilities recommends 60 square feet per student for grades 6 to 12. For grades PK to 5, NSTA recommends 45 square feet per student. This means that if the science room is built for 24 students, then no more than 24 students will occupy that room in any one period. There are also state fire codes for "room occupancy" that allows only a limited number of students in a science lab based on the size of the room (check your local requirements). Safe egress during a fire is a requirement.
With limited time and money, what are a couple of things that a typical science teacher could do to create more space for science learning?
Dr. West: One thing science teachers can do is to clean up and organize the science materials already in the science room and science storerooms. Free up space by clearing out the shelves and drawers of items that can be collected from students each year such as plastic jugs, toilet paper rolls, etc. Another thing would be to schedule an appointment with your principal for a tour of your room and science storerooms.
Then, demonstrate to your principal (not just tell) the storage needs and ask for his/her input of how those needs can be met to enable safe and effective science instruction for your students. An easily accommodated request could be something as simple as some extra shelves for the shelving units.  It typically comes with only five shelves per unit, but seven are really needed so glassware is not stored higher than eye-level or stacked on cardboard on top of a layer of glassware.
What do you think about dedicating a room for science learning so all teachers can rotate in using it?
Dr. West: Students need to "do" science regularly and students need to be able to move seamlessly back and forth from lab group investigations to whole class discussion sense-making. This is best done in a combination lab/classroom, not a room with only lab benches. Elementary students should use 80 percent of their science time "doing" science in "hands-on" lab or field activities. Grades 6 to 8 should use 60 percent and grades 9 to12 should use at least 40 percent of the time in hands-on lab or field activities.
Aside from assigning contiguous rooms, what other space considerations should math and science teachers have?
Dr. West: Following the best-practice format of concrete to pictorial to abstract in both math and science instruction requires having "stuff" to teach/learn with, such as math manipulatives or simply grocery store items. So, adequate storage and adequate work surface areas are as important in math as they are in science. However, the storage must also be specifically designed for storage of the materials, manipulatives, and equipment for each discipline. Physics uses equipment such as bicycle wheels, six-foot air tracks and other equipment that doesn't fit in typical shelving or cabinets. Chemistry needs obviously needs safe, secure, properly ventilated chemical storage not in the preparation room, glassware, ring-stands, etc. Biology needs microscopes, specimens, glassware, chemicals, etc. Earth Science needs stream tables, rock and mineral samples, glassware, rainfall gauges, etc. Grades PK to 8 teach all sciences and need equipment from all of the disciplines.
In Summary
Well-designed science learning spaces must include enough room to perform laboratory experiments, investigations, and sense making, but they also must include enough room to safely store all of the laboratory equipment and consumables. As Dr. West reminded me, "Form must follow function. The design of the science facilities can either enhance or impede effective science instruction." De-cluttering and increasing storage can increase the science learning space to some extent, but ultimately designing the science classrooms/labs according to NSTA standards in the first place is the best way to go.
What tips can you share to for improving science learning spaces? Please share in the comments section below.