Education Trends
A Delectable and Academically Integrated School Lunch?
NYC's Calhoun School serves healthy lunches that are educational, affordable, and eagerly anticipated by students. Their lead chef also describes how the program is scalable.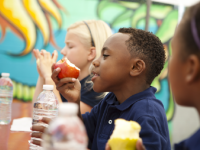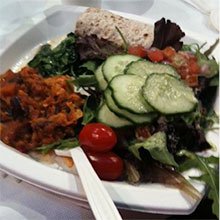 Photo credit: Adam Provost
My meal at Calhoun the day I visited anything but was your typical school food.
When I asked Kyle, a first-year teacher at Calhoun School in New York City, about the food program, he summed it up well: "I read the menu to my kids the first day I taught here, and when I got to kumquats, they cheered. I was pretty confused. I mean, I'd never seen anyone get excited about school food before. And kumquats? I'd never seen that on a school menu before. Then I tasted the food here and I understood. We get excited every day here for the food."
Excited about school food? Really? That's not something you hear often.
Chef Robert "Bobo" Searles -- who prefers Chef Bobo, a nickname he's had for 40 years -- is the mastermind behind Calhoun's culinary magic and the designer of its deeply integrated food education program called Eat Right Now.
"We make a choice to prepare and serve healthy, fresh food here, and we make it from scratch," says Chef Bobo. "That's just the first part of what we do, though."
Chefs Teaching Kids
"Our chefs love visiting classes," Chef Bobo explained. This excerpt from the FAQ page on the Calhoun website explains why: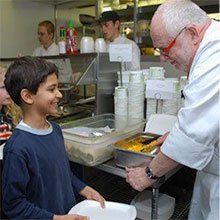 Photo credit: The Calhoun School
Chef Robert, 'Bobo,' Searles serving lunch.
Greek food during a study in Greek Mythology? "There's no magic to it," says Chef Bobo. "It's just in the planning. I ask teachers to give us at least two weeks lead time to cook food that's lined up with what they're studying. We can help them incorporate a lot into regional and time-period studies."
Another example, Chef Bobo explains, is in biology class, where "we'll bring in a whole pig, and one of our chefs will butcher it for the whole class while the teacher talks about the anatomy. The teacher is there, describing systems, and we'll show them how the various cuts of meat look. Here's where bacon comes from, here's where your spare ribs come from, this is where your ham comes from. For some," Chef Bobo laughs, "it's probably a recipe for going vegan, but it's really important to know where our food comes from. At the end of the day, students will come down and we'll show them how to prepare this food we've butchered."
Lunch by the Numbers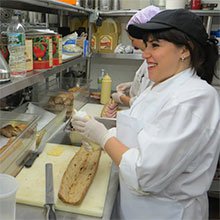 Photo credit: Adam Provost
Sandwich of the day prep at Calhoun.
As a private school in Manhattan, Calhoun carries a connotation of wealth that can discourage people from looking more deeply at their food program. Yet the numbers on how the program works are surprising.
At the time of this interview, Calhoun serves roughly 700 students every day for $3.12 each. Chef Bobo explained that he budgets $3.25 per student, which breaks down to a food budget of roughly $335,000 per year. And what does $3.12 per day bring? I was surprised, for sure:
Available all day: A variety of healthy drinks, yogurt, granola, and fresh fruit.
Breakfast: Juices, coffee, freshly-baked mini-muffins, and fruit.
Lunch: Each day, the chefs make a soup, sandwich, entree, vegetable, and starch dish. There's also a full salad bar with all dressings made from scratch. Any students with specific allergies have meals created for them each day.
"Entrees," Chef Bobo explains, "are strictly portion controlled. Portions don't exceed three ounces. The salad bar and fresh fruit are all you can eat. We speak often about taking what you can eat and not wasting. We encourage students to come back as often as they need."
"We serve fresh fruit for dessert five days a week, and once a week we prepare something pretty special," says Chef Bobo. Check the Calhoun menu to see for yourself.
Six Chefs?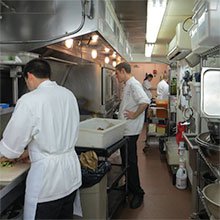 Photo credit: Adam Provost
Close quarters? No problem. It's about how you adapt your practice.
Five other chefs work with Chef Bobo in the Calhoun kitchen. Six is a controversial number, far more chefs than most schools employ. But their role at Calhoun is atypical.
"Our chefs work with kids and teachers in classrooms, they cook the food from scratch, and they serve the food, too," Chef Bobo tells us. "We don't have front staff. Kids learn to love our chefs. When kids trust you, they'll try new things." He adds, "We all do a bit of everything -- classroom work, cleaning, picking up spills, you name it. We also rotate who plans the menu, usually two weeks at a time. We train every chef in all aspects of running the kitchen."
Advice for Other Schools
According to Chef Bobo, Calhoun's food service model is easy to replicate: "As a first step, it's not a lot of money. Put out a salad bar, get real, fresh, raw vegetables and fruit out there, and give kids some variety. Put a lot of emphasis there and make it really, really good."
On price points, Chef Bobo offered this advice: "One of our former chefs has gone on to a public school in the South Bronx and adapted our model for his school. When they were getting their food from the city, it cost $2.70 per kid per day. It was really bad quality. Now he's making things from scratch, serving fresh food every day, offering better selections, controlling portions, and spending less than $2.60 per kid per day. He started by serving a fresh soup, one great sandwich, one entree, and a fresh salad bar each day. It's all fresh and all delicious."
Addressing personnel choices, the Chef says, "So many schools have cafeteria workers who have never been trained to cook in their lives. They gear their day to prepare processed food, and warm things, and serve. Restructuring what you serve and how you serve it is a first step. You can make some great changes with two chefs. Then make decisions from there on how far you want to go."
Positive Impact
I asked a sixth grade student at Calhoun what he thought of the school's food program. He smiled, eyes lighting up, and said, "Hey, I asked my parents for a Cuisinart for Christmas."