Professional Learning
Defining "Best Practice" in Teaching
Teachers stand on the shoulders of giants who developed tried-and-true strategies by testing them out, reflecting on the outcomes, and honing those strategies over decades or longer.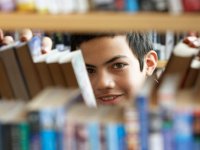 It's often said in the teaching world (as in many professions and trades, I imagine), "Why reinvent the wheel when there are plenty of practices that already work?"
In their book, Professional Capital: Transforming Teaching in Every School, Andy Hargreaves and Michael Fullan share their definition for "best practices," which they define as existing practices that already possess a high level of widely-agreed effectiveness.
We teachers are standing on the shoulders of giants before us who have developed tried-and-true strategies by testing them out, reflecting on the outcomes, and honing those strategies over decades or longer. And they work; they get results.
What are some of the best pedagogical practices I've adopted over the years from my mentors and guides in this field? Here are just a few straightforward ones that are known, and used, by many educators:
Check for understanding often and in a variety of ways.
If you don't have a well-thought out plan for your students, they will have one for you.
Set up the next activity while students are completing the current one -- this makes for a smooth and speedy transition with little to no downtime.
Design the end goals and end product first (also known as backward planning).
Share models with students of the product or outcome you want them to create or design -- and also continually model in your own behavior how you want them to act and treat each other.
Don't throw anything away, especially in your first few years of teaching; you might need it later.
The Role of Research
There are also those best practices that have data to back them up. When looking at the work of educational researcher Robert Marzano, we see that he has spent hundreds of hours observing classroom practices and using this data to suggest best practices for vocabulary instruction, student assessment, and classroom management.
Marzano's six-step process for building student academic vocabulary is deeply informed by his research and used within school districts across the U.S. When it comes to growing student vocabulary, he asserts that direct instruction is a best practice and essential. (Here's a post I wrote, Doing It Differently: Tips for Teaching Vocabulary, that says more on this.)
"The Next" Best Thing
It is the adventure and challenge for all educators, grades K-16 (yes, university instructors as well), to take that tried-and-true strategy and evolve it -- making it best to next. In this digital age, for instance, as our students' needs and strengths shift, we must remain innovative, and our best should always be transforming and moving toward the next best approach, tool, or strategy.
When thinking about the learning and teaching in your classroom, what best practices do you utilize? What are ways that you've innovated and transformed a best practice to a next -- or better -- practice? Please share in the comments section below.