Assessment
A Defense of Deeper Learning: Watch What's Working, Part 4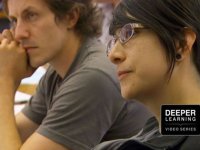 "For teachers, [calibration] is really a chance for us to check our own understanding of what we're expecting from students."
At Envision Education, as teacher Abby Bennedetto puts it, "the defense is it." By this, she means that the defense -- a tenth or twelfth grader's presentation to their teachers, peers, family, and community members -- is where they get to shine. This is where a student demonstrates her readiness to move forward and her mastery of content and skills that have helped her develop as a learner and as a person.
So who decides if she succeeds? Who are the people making the final decision, based on the defense, about whether she will pass, pass with distinction, or be asked to revise and resubmit? This important job is left to the Defense Panel, made up of teachers and students. And if that panel doesn't do the job well, then, as Abby puts it, "The validity of the defense goes out the window."
So while the defense itself is the most important part of the process for a student, for the defense panel, the most important part is preparing to assess the defense with the highest degree of rigor and integrity.
It's called calibration, and it means that teachers must learn to use Envision's defense assessment tool correctly, so that every student is judged by the same standards and the same level of rigor.
In this next Envision Education video from The Teaching Channel's Deeper Learning series, you'll see Envision teachers discussing the assessment tool and then you'll see assessment in action, as panel members use the tool to decide a student's fate. (As a reminder, the Deeper Learning series contains 50-plus videos showcasing 10 Deeper Learning networks from all over that country that are preparing students for success; collectively, they serve more than 500 schools and 227,000 students.)
There are two important features of the defense that are evident in Calibration: Assessing Portfolio Defenses. The first is the role of follow-up questions and the second is the role of student panelists:
video
Follow-Up Questions: In the video, you see panelists debating if they can "check off" certain skills as proficient and you'll hear them talk about follow-up questions. This points out one of the critical features of the Defense Presentation: Follow-up questions allow a student to go more in-depth on a subject or to cover ground they may have missed in their initial discussion. This is important because it gives a student the chance to paint a more complete picture of her knowledge and skills. Part of the calibration process includes understanding the importance of follow-up questions in giving each student the best opportunity to succeed.
Student Panelists: Similarly, you'll hear from a student panelist and watch as she considers how to evaluate her peer's defense. She is expected to use the assessment tool in the same way the teachers do: to ensure that each defense is judged by the same standard. For our student panelists, this is a real life use of the critical thinking and communication skills they develop during their four years of high school, as they are asked to participate in making an important decision about another student. In other words, the assessment itself is reinforcing learning, and inviting the student panelist to use her skills in a context that has a real-world impact.
Calibration is critical: Envision teachers work year-round to make sure they are preparing students for their defenses and that they themselves understand the expectations and requirements for passing. Because they do this important work, a successful defense is truly the hallmark of a student being ready to succeed in college, armed with the knowledge and skills she needs for her future.
Questions to Move Us Forward
How do your teachers work together to ensure rigor and equal standards of assessment?
What are some other creative ways to get students involved in assessing their peers?
Please share your thoughts and ideas about this post in the comments section below.