Literacy
Creating a Writers' Workshop in a Secondary Classroom
With the station rotation model, secondary students can focus on language arts skills such as analysis, structure, and academic writing while improving their overall writing quality.
In the middle of the school year, I always regret my choice of becoming an AP and Honors English teacher. Not because I hate to teach, but because I'm always swimming in essays that I have to grade. In order to accommodate the load, I adapted the elementary way of thinking and formed a writers' workshop for my own classroom. Once they participate in the workshop, students are able to learn how to revise their own essays. Because of this, the time it takes for me to grade essays is literally cut in half.
Suggestions for Implementing a Writers' Workshop in Your Classroom
1. Station Rotation Model
When I conduct writers' workshops in my own classroom, I adapt the station rotation model of blended learning. I set up five or six stations around my classroom. Students walk into the room and look at the assignments listed on the whiteboard. They then pick the skill that they need to develop and go to the designated station. The teacher usually works at the table with the hardest skill and then wanders around the classroom offering help as needed. The workshop usually lasts 4-5 days.
2. Let Students Pick the Skills They Need to Build
Every time I conduct a writers' workshop, I survey the students and ask them what skills they would like to practice. I've found that doing this allows me to narrow down the specific skills that my students are struggling with.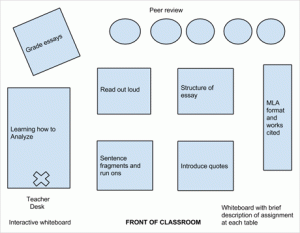 Image credit: Shelby Scofield (click image to enlarge)
Examples of Stations
1. Read Aloud
After a brief discussion about the benefits of reading aloud, students go out to the hallway and use their phones or Chromebooks to record their own voices as they read.
2. Kaizena Recording
For those who use Google documents in their schools, Kaizena is an excellent resource. Students download this app which allows them to have a conversation with the teacher. Using the app, they highlight certain portions of their essays and give me audible comments. They tell me what areas they think need improvement and what areas they feel they've mastered.
3. Learn How to Analyze
This is a skill that can be difficult for students at all levels. To help students learn to analyze text, give them various passages and teach techniques that will help them find the "bigger picture." After this quick exercise, have them rework passages in their own essays.
4. Sentence Fragments and Run-Ons
After students complete an exercise that teaches them how to identify these types of sentences, instruct them to fix the sentences in their own essays.
5. Essay Structure
Review the format of an essay with students. Then instruct them to go back and label the parts of their essay using pen, pencil, or Google Docs.
6. Academic Writing and Transitions
Give students examples of academic words and transitions. Then have them use this type of language in their own essays. They should underline or bold the areas where they made the changes.
7. MLA Format and Works Cited
Using Purdue OWL (Online Writing Lab) as a main source, instruct students to complete various activities that will help them build a works cited page for their own papers.
8. One on One With Teacher
I believe that best help we can give students with their writing is to sit down with them one on one. With the station rotation model of the writers' workshop, teachers have more time to do this.
9. Introduce Quotes
This station is devoted entirely to helping students avoid the habit of "dropping quotes" -- including quoted material without introduction or attribution.
10. Peer Feedback
Students read their partner's essay and then fill out a detailed form that you've given them for their questions and observations. After reading the essay and filling out the form, they should have a verbal conversation with their partner about the areas that need improvement.
11. Grading Student Essays
Give students a stack of papers and a rubric. Their assignment is to grade each essay and talk about the score with their group.
Success of Workshop
Giving students control over their learning has made all the difference in my classroom. Allowing them to pick whatever writing skill they most need to develop will give those who are excelling the ability to move on, and give those who are struggling permission to slow down and get the help they need. After a writers' workshop, the quality of essays dramatically improves. Students are happier with the freedom that I give them in the classroom, and I'm happier with my decreased workload. Ultimately, I've learned that learning how to write essays is an individual journey for each student. The writers' workshop caters to students and allows them to learn the skills that every student needs to become successful.
What are your strategies for helping students develop their writing skills? Please share in the comments section below.