Assessment
The 5 Keys to Successful Comprehensive Assessment in Action
Stanford professor Linda Darling-Hammond shares how using well-crafted formative and performance assessments, setting meaningful goals, and giving students ownership over the process can powerfully affect teaching and learning.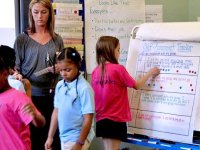 Assessment is the key to good instruction. It shows us what students know and allows us to adjust our instruction. Assessment is tied to learning goals and standards, but students must own the assessment process as well, as they must be able to articulate what and how they are being assessed -- and its value. But what does this look like in a unit of instruction?
In this post, I'm going to walk you through how I have used the 5 Keys for Comprehensive Assessment (see Linda Darling-Hammond in the video below) in my unit on Informational/Explanatory Writing so that you can see how comprehensive assessment is not only possible, but also great teaching and learning.
video
1. Meaningful Unit Goals and Question
I began with the end in mind when I planned this unit. In terms of assessment, we as educators must know what we want students to achieve by the time they leave the unit of instruction. If we don't know where we are going, we may or may not get there. I want to make sure that all of my students succeed, so I must know those goals for all students.
Many of us are driven by standards. Whether those are Common Core State Standards or other important district- or school-level objectives and outcomes, we must make sure that our units of instruction are aligned to them. For this unit, I wanted to focus on what many consider power standards on Information/Explanatory Writing. Specifically I used these Common Core standards:
"Write informative/explanatory texts to examine a topic and convey ideas, concepts, and information through the selection, organization, and analysis of relevant content."
"Produce clear and coherent writing in which the development, organization, and style are appropriate to task, purpose, and audience."
"Gather relevant information from multiple print and digital sources, assess the credibility of each source, and quote or paraphrase the data and conclusions of others while avoiding plagiarism and providing basic bibliographic information for sources."
To frame the unit and provide relevance, I provide an essential question around the power of media. It's something my students experience every day, whether listening to the radio or other music industry outlets, watching TV shows or news, or streaming online media. The question I gave them was: "How do advertisers trick us?" I wanted them meet the writing objectives I had set out through a relevant issue that they would find meaningful.
2. Summative Assessment Through Writing
Since the intent of the unit was to assess writing standards, I knew that they needed to provide a well-written product. In this case, I could still provide them with some choice. Additionally, the standards I chose had to do with evidence, and so they needed to do research, cite evidence, and make sure that it aligned to their ideas in their written product. Some students chose to write a traditional essay, while others chose to write a letter to someone they knew, and perhaps bring some awareness to a larger audience. Even though there was choice in the written products, there was a common, standards-aligned rubric that could be used to assess all the products to ensure that all students were meeting the same outcomes.
3. Performance Assessment Through Presentation and Portfolio
It is important that we allow students other modes of showing what they know, and we can also use these performance assessments to assess different learning outcomes. In fact, students were able to show some of their content knowledge as well as speaking and listening standards around collaboration and effective presentation. They got to choose how they would present their answer to the essential question, whether by a podcast or a Prezi formal presentation. It allowed them to go deeper and express their creativity with the content. Performance assessments like these allow us to check not only for engagement, but also for deeper learning through 21st-century skills.
4. Formative Assessment and Feedback Along the Way
There were many benchmarks that allowed my students and me check for understanding of both content and skills. Great teachers formatively assess students all the time and may not even know it. In this case, some formative assessments were formal (a draft or outline), while others were more informal (interview questions, discussions and exit tickets). All of these allowed me to know where each of my students was in the learning process, as well as make instructional decisions. Some students needed more one-to-one feedback, while others were ready to move forward. I was able to make differentiation decisions and work smarter through small-group instruction and whole-group instruction.
Students were also given specific, timely, and actionable feedback through the formative assessment process, with peer critique, teacher critique, and even outside expert critique on their performance assessments. Formative assessment allowed students to experiment and, yes, sometimes fail. However, they were given the tools, both through feedback and instruction, to improve and move forward to success.
5. Student Ownership of Assessment Process
What has not been mentioned is the voice that students had in the overall construction of the unit and the assessment. When I first asked what they would be interested in learning more about, they mentioned commercials, adds, media, etc. Together we brainstormed some ideas, which I then transformed into an essential question. Already mentioned was that students did have some choice in the summative and performance assessments. By providing choice, more students were able to own how they showed what they knew. In addition, I gave them the rubrics early in the assessment process to set goals, provide meaningful feedback, and self-assess and reflect. The goals were transparent so that they could be agents in their assessment, rather than passive observers.
Any great unit of instruction can include these five components of effective assessment. These methods mean that assessment is no longer done to students, but with them, putting the focus on the student and learning. Although students are awarded grades, they are rewarded through being at their best and coached through their challenges.
How are you using assessment to empower students to own their learning?