Project-Based Learning (PBL)
Collaboration: Key to Innovation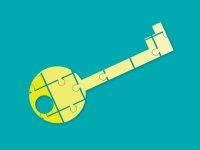 Creating curriculum, and in particular, project-based learning units, is like telling a story through lesson design. The story I have been telling these past two weeks centers on blossoming young inventors looking to solve the minor but irritating problems of our day-to-day life. As a language arts teacher who loves science, this kind of unit excites me -- and that excitement trickles down to my middle school students.
There are many components to the unit: brainstorming, research, development, design, cost analysis, collaboration, and pitching. They are using art, writing, math, science, and probably countless other elements that focus on real-world content and communication.
One of the resources that I have the kids use to prime their pumps for innovative thinking is Quirky.com. Quirky basically has three tabs in its menu bar that say it all: Invent, Influence, and Shop. You can submit an invention, shop for inventions, and the coolest part of all, give input to influence the decisions an inventor makes as they move along their timeline toward final production. Finding Quirky was like finding a Mecca of meaningfulness. It's a real-world example of collaboration between people looking to solve a problem.
Students love to talk and give their opinions. Therefore, it's vital to leverage their nature in every subject area. For this reason, I reached out to Quirky, not just as a model for my students to explore, but to learn more closely how collaboration feeds their innovation.
Real-World Collaboration
We use collaboration in classrooms for students to grow in their ability to communicate. We also use it because what results is greater than having worked in isolation. Quirky agrees.
Edutopia: Why is discussion so important in science/STEM classrooms?
Quirky: We believe that collaboration and learning from one's peers are essential to innovation and learning. We collaborate with community members online, and community members collaborate with each other on their ideas. All of this incorporates discussion in writing, in person, and over the phone or through video conferencing. As individuals, we learn the most from our peers and counterparts. Being able to ask questions, bounce ideas off one another, and receive feedback are fundamental to the learning process. They ultimately help us grasp complex concepts much faster than we could if we were simply being lectured to, taking tests, and doing homework.
(In my own classroom, my middle school students form learning groups that create Team Charters or Collaboration Contracts that give guidance in how often they will meet and in what methods. The students meet via Google Hangout or Skype. Some agree to answer emails within 24 hours. Others agree to meet face-to-face after school. The key with student feedback groups is to have them set expectations of each other ahead of time. -- Heather)
How does Quirky leverage collaboration among its stakeholders?
Inventors submit their ideas to Quirky; Quirky community members influence their ideas through researching, voting, and commenting. These influencers help Quirky staff develop the idea into a real product through contributing in market, design, pricing, and branding.
(My own twist on this process was to have my students send each other Google Forms that asked for peer feedback regarding the name of the product, the price point, the slogan, and the level of need. -- Heather)
What social media outlets are most often used by the invention community?
Twitter and Facebook are heavily used by our community to form sub-communities and share their ideas. Pinterest is also used for sharing products and ideas.
(In fact, a number of my students also asked if they could start Facebook pages or Tumblr accounts to help get feedback from other students. In the end, we all created webpages that were used to promote our mythical products. -- Heather)
Getting Students Started
They assure me that a student doesn't have to know engineering to be inventive, but the Quirky folks did have advice on getting started in what I'm calling their atmosphere of collaborative innovation.
1. Start with a Problem
Make sure that problem is something you experience every day but is not limited to you or your immediate family (the best problems are widely felt).
I had my students tour their homes and classrooms looking for inspiration. I had them create a bulleted list of irksome problems for each room. This list ended up reflecting a whole day's worth of puzzles that a student can tackle.
2. Brainstorm as Many Solutions as You Can
Don't worry about how silly or out-there they are. Use research to come up with the solution that best solves the problem and that you are most capable of making.
Have students doodle, flip through books, look at Rube Goldberg pictures. Give them exposure to the innovative thinking around them. From there, my students wrote a problem statement that helped them frame their ideas in more formal writing.
3. Design That Solution
Sketch out your solution so that you have an idea of what it will look like. Prototype your solution so that you can test it in action. TinkerCAD and 123D Design are simple 3D modeling programs that inventors of all ages can use to convey their invention. Digital sketching programs such as Paper and Sketchbook are great if you aren't quite ready to build your own 3D models.
4. Collaborate and Get Feedback from Others
Create and share your elevator pitch to gather feedback. Use feedback to refine your solution.
My eighth grade students wrote elevator speeches like this one:
5. Present and Promote Your Creation
Inventors can create their own blogs to promote their inventions, work with assistance programs such as Dragon Innovation in Boston, or share them with online communities such as Thingiverse, Instructables, and Behance.
My students created websites using Weebly, Wix, eMaze, and Google Sites. Their pages informed and argued using text, data, description, and original 3D designs. We even wrote reviews of our products mimicking those we saw for household items on Amazon.
Making Classroom Invention Authentic
I often wonder how to involve authentic audiences in the end of my project-based learning units. What happens at the end of their learning story? Have they convinced their board of education to allow for this? Have they raised the money to buy that?
When tackling an invention unit, there are great opportunities to showcase student work to an audience greater than yourself. To begin with, your school can host an Invention Convention. Invite local STEM professionals to help evaluate the products. Submit to Quirky or to the Scholastic Klutz contest.
The goal, says Quirky, is to "make invention accessible, both by providing a means to turn invention ideas into real products and by educating aspiring inventors on the fundamentals of product development." Product development uses all the core subjects, but it begins with teachers willing to create their own atmosphere of collaborative innovation.
Editor's Note: If you want to learn more day-to-day details about Heather's Invention Unit, check out her book, DIY Project Based Learning for Math and Science, due out in fall. In the meantime, check out Quirky for their soon-to-be-released curriculum guides.