Technology Integration
Classroom Champions Inspire Students
Real life sports heroes inspire students
As teachers, we must be able to think on our feet and have creativity constantly flowing to make our classroom inviting and interesting, while also making sure our students leave with more knowledge and insight than when they started with us.
This year, we're working with an organization called Classroom Champions, which pairs students in high-need schools with top performing athletes in order to motivate them toward recognizing their potential and setting goals, while educating them in the practical use of communications technology. This program has really helped us take our teaching to a new level.
An Athlete in Our Classroom
The athlete we were paired with is Jerome Singleton Jr., a Paralympic track runner who embodies all the "life lessons" that we try to pass along to our students in addition to their daily academic lessons.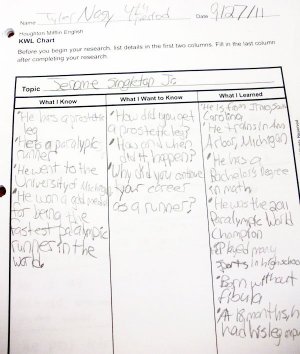 In our classrooms, we have incorporated values, beliefs and strengths that have been set in place to help our students succeed. By bringing Jerome into our classes, we have allowed our students to have experiences they would not normally be able to have. They communicate with him via videos, through photos and, soon, through live chat. We recently received a TV that they will be using to live chat with Jerome in the next few weeks. They are so excited at the beginning of each month to watch a new video he has posted, and learn about a new challenge they are asked to come up with and see through. From the start of this project, we have seen our students really grow from the experience.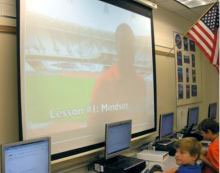 Meeting Jerome
September was our first month of getting totally immersed in the program, and when the students received the first video from Jerome, they were so excited! The video was a montage of the events and races that Jerome has been through to get to where he is now, including the ups and downs he faced throughout his career. We learned that it hasn't been an easy road for him, but his perseverance, determination and hard work have brought him to the Olympics!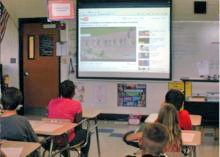 Our students were immediately filled with questions for Jerome about what inspires him, how he felt to make it to the Paralympics in London, who his heroes were, etc. The students sent videos congratulating Jerome on his achievements and asking him questions about what helped him be so successful.
Monthly Activities
In the months of October and November, we focused on setting goals and exploring what inspires us to reach them. The video from Jerome about what he finds inspirational and who his role models are really got the students thinking about how they need to start preparing for the future in the present! They made posters about who and what inspires them, and then timelines for their future to show what goals they have and when they hope to accomplish them.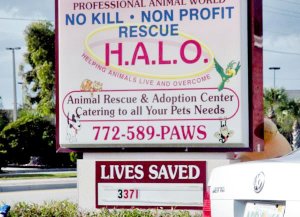 In December, our theme was to show how we could help our community. Our students decided that animals should be our main focus, and for four weeks they gathered donations to send to local animal shelters. We had more than five boxes overflowing with food, treats, toys and even a crate to donate. We were so impressed at how much effort our students put in to making the holidays better for animals that did not have a place to call "home." Their unselfish dedication is what makes this program amazing. We know Jerome is proud of them!
For January's theme of "fair play," the students received another video from Jerome, who happened to be just an hour away from us in Orlando at the time, and the students could not stop asking if we could go see him! In just a few short months, he has made such an impact on our students, allowing them to see that nothing is impossible, if they just try their hardest and never give up. Many kids in our area come from situations and home lives that don't give them many role models to look up to or aspire to be like. We know that Jerome truly fills that void and provides students with a person to admire who has faced adversity and tough times only to come out on top!
Future Topics
In the next few months, our topics will include "respect" and "health and wellness." Our students have already decided that they want to try to live a healthy, happy lifestyle like Jerome, and push themselves like he does to reach their goals. This experience has been life-changing for our students and has allowed them to see that nothing is impossible if you set your mind to it. This is an experience that they will never forget!

(If you are interested in working with Classroom Champions in the 2012-13 school year, the application period is March 1 to 31, 2012. Apply to Classroom Champions here.)