Education Trends
Imagine This: Creative Play and 21st-Century Learning
Reimagine learning through play, whether children or students are building with recycled materials, playing social justice or health-themed games, or growing their own garden.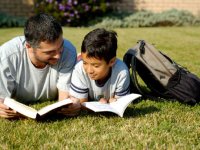 Credit Rob van Nood and his design-thinking-heavy Tinker Camp in Portland, Oregon for the zombie angle. It's a brilliant mechanism for adding urgency and creative play to a curriculum straight out of the maker movement. My kids (ages six, four, and one) can't seem to get enough. They contemplate our house's vulnerabilities and imagine tactics that zombies might use to break the perimeter. They take seriously their obligation to protect our family.
The Tinker Camp approach is perfectly emblematic of the convention-overturning strategies that hundreds of leading educators, administrators, and social entrepreneurs shared as part of the Re-Imagine Learning Challenge -- a joint, network-building effort of the LEGO Foundation and Ashoka. Those same strategies also anticipate the skills needed in a changing world.
5 Ways to Re-Imagine Learning
My girls are growing up into a working environment that's very different from the one featured in my own childhood classrooms. Issues of climate justice, economic opportunity, and national security will be our kids' proving grounds. And we need changemakers with a vision and knack for emotional intelligence who'll pursue solutions that can outpace our problems.
Got that? As outlandish as a zombie apocalypse might be, the skills mastered in preparation have alternative and potentially even more heroic applications. Here is a selection of other groundbreaking, skill-building interventions delivered with whimsy and a smile:
1. Creative Recycling
Not sold on letting your kid play with power tools? Make duct tape your cup of tea. Caine, Nirvan Mullick, and the great people at the Imagination Foundation are appropriating the world's discarded cardboard boxes as canvases for arcade games, spaceships, and distinctly analog office machinery. Their Global Cardboard Challenge has put more than 100,000 kids in charge, offering early exposure to problem solving in an unstructured environment. It also normalizes the notion that instruction manuals are passé.
Re-imagineers are also fluent in video gaming. It's a beautiful thing.
2. Medical Research
Want your car-seated and curious four-year-old to do better than Candy Crush? Have her diagnose malaria cases on the way to the doctor or a playdate. MalariaSpot, a genius (and free) online game produced by Miguel Luengo-Oroz and team in Spain, makes this possible by prompting kids to spot real parasites in digital blood imaging. Findings are aggregated, and the accuracy bests the assessment of a trained microscopist. It's addictive in the see-if-I-can-beat-my-sister sort of way. It also prompts larger conversations about social justice and global health -- i.e. why is it that a child dies every minute from malaria, and what can we do to help?
3. Coding for Fun
To the extent that I want my daughters to complement that problem solving and empathetic orientation with a world-conquering foundation in computer science and coding (what parent doesn't?!), Grant Hosford and his team at codeSpark have just the thing: The Foos, a research-backed virtual play space that introduces sequencing, loops, and conditionals, and maps it to the Common Core State Standards. Even if their immediate output doesn't amount to an X Prize-winning, tablet-based software product to transform education, they'll be girls who code in an environment where nine out of ten elementary schools don't teach computer science.
But wait, there's more.
4. Land Stewardship
You like caterpillars? It's all in the milkweed -- or so I discussed with Joaquim Leguia and his team at ANIA when we sketched a grand plan for a kids' garden on the back of a pamphlet at the 2014 LEGO Idea Conference. A play space that kids can make all their own? A tool to grapple with dependency and environmental stewardship? A place where they can cultivate beauty for their family and friends? Yes, yes, and yes. The trick is to tap the kids' own ambition. They literally design and label the space. They pick the seeds they want to plant, or choose among offerings at the local garden shop. They nourish or starve, drown or dry out, and prune or liberate the square meter of earth they call their own.
5. Active Play
"But what about my one-year-old?" you ask. For her, we've got the insight that the best toys and games are those that can inspire play and learning across developmental levels, ensuring that she's engaging with her siblings as much as she is with toys. Cynthia Poon and Maeve Jopson at Increment are putting this concept to the test with the spring 2015 launch of their O-Rings, a set of stackable rings that help kids of all ages explore color, size, and tactile variation while engaging in active, physical play. Until then, I suspect that a pile of sleeping bags and pillows might be a great placeholder.
The Upside of Fun
The Re-Imagine Learning Challenge inspired the participation of nearly 600 organizations from 70 countries -- you've just heard about a handful.
As the seemingly partisan debates about testing, curriculum standards, and financing rage on in schools, parents like you and me can do the entrepreneurial thing we've always done: be a co-owner in the process. Bring the lessons of the Re-Imagineers home. Consider play not as a distraction, but as a structured opportunity to reinforce the skill set necessary for 21st-century leadership. Have fun. Inspire curiosity. Teach the grit and other non-cognitive skills that education journalists keep talking about.
A final tip comes from Mohammed El Raffie and his team at CORD. Robots are his thing, but his guidance goes beyond the hydraulic valves and tubes that he uses to teach basic mechanical engineering. "Kids love to take things apart," he explained. "When I was a kid, my dad and I had a grand time dissecting our dishwasher, microwave, whatever. . . just for fun."
Raffie's words echo through my head as I picture a household graveyard of forcibly retired hardware -- the air conditioner, the patio furniture, and internet router. . . in pieces. Great idea, this Black & Decker screwdriver.
Here's what Raffie didn't say: "Be careful." Then again, that comes naturally. We're parents.
Editor's Note: This post is inspired by one of the eight patterns appearing in educators' innovative approaches in the Future of Learning report, "Equipping Adults to be Changemakers in Learning," by Ashoka and the LEGO Foundation.