Social & Emotional Learning (SEL)
Pow! How Comics in the Classroom Can Combat Bullying
Comic strips can help in combating bullying at your school.
There's nothing funny about bullying, but appealing to students' comic sensibilities might help open discussions about this serious subject. That's the idea behind the Stop Bullying: Speak Up Comic Challenge. During October, students and teachers can join a nationwide dialogue about bullying prevention that will play out through the engaging medium of comic strips.
"This gives students a creative way to talk about what they can do to respond to bullying," explains Shahan Panth, co-founder of Bitstrips. "It's about using their voice, their ideas to resolve situations."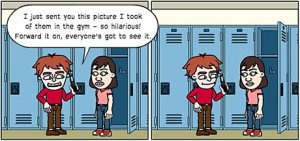 Credit: www.bitstripsforschools.com
Each week during the campaign, Bitstrips will release a new comic template that sets up a different situation, such as cyberbullying or cell phone bullying. Students start by using online drawing tools to create their own avatar, which is dropped into the template as the "star" of the strip. Students then respond to the situation by finishing the comic strip with dialogue, new characters, or special effects. Different activities might cast students' avatars in the role of bystander, victim, or even a bully who has to face the consequences.
There's no entry fee for the challenge, which offers two ways to get involved. Students can take on weekly challenges individually. Teachers can also set up free class accounts. Finished comics can be published in an online gallery, giving students a wide audience for their work. At the end of the challenge, the best strips will be compiled in a downloadable anthology. "This will be a bullying prevention comic book created by kids across the country, a great resource for teachers and librarians," says Panth, who hopes the anthology becomes an annual publication.
The Stop Bullying: Speak Up Comic Challenge is one of several ways that students and teachers can take part in Bullying Prevention Month, a project of the PACER Center. The Comic Challenge is most likely to appeal to students in grades 3-8, Panth predicts, and has attracted support from the American Association of School Administrators.
Why Comics?
Since Bitstrips launched in 2008 as an online comic creator, the Toronto-based company has seen an explosion of interest from the education community. More than 100,000 teachers have opened accounts with Bitstrips for Schools, which offers educators a secure site for classroom use. Students have created six million original comic strips, with more published every day. Ontario, Canada, has been a hotbed of creativity, with nearly every school in the province-producing comics.
Teachers use the site for a variety of projects, but most focus on building literacy. Comics offer a way to focus students' attention on elements like dialogue, interior monologue (thought bubbles), character development, and setting.
That makes sense to Bitstrips co-founder Jacob Blackstock. "Comics are a powerful language to communicate," he says.
Blackstock is an accomplished cartoonist who created Bitstrips out of his own frustration. "It takes skill and patience to create comics. I grew frustrated with the time it took me to go from an idea to a fully executed comic. Before I could finish drawing one," he says, "I was already on to my next idea."
Tech Connection
Technology allowed him to speed up the creative process. He realized he could draw a character or prop once, add it to an online library, and then drag, drop, and adapt these elements to quickly produce new panels. He worked with a small team -- including Panth, a classmate from high school days -- to develop this idea into an online platform and launch a company. They thought Bitstrips would appeal primarily to other adult cartoonists, but it didn't take long for teachers to find their way to the site.
To respond to this new market, they launched Bitstrips for Schools as a separate site and have been busy ever since expanding the online libraries of graphics, props, and special effects. Suggestions from teachers have expanded the library with new images, such as laboratory equipment that science teachers requested. Students can also upload their original artwork to incorporate into comic strips. Social networking features allow for peer feedback as well as teacher comments, further supporting the writing process. Teachers can even make class sets of students' avatars, creating a humorous alternative to school pictures.
The easy-to-use tools allow students who may not be skilled artists to express themselves through the medium of comics. They can quickly communicate ideas, making their thinking visible. "In a typical class, only a couple students might be able to draw really well," Blackstock says, recalling his own experience as the kid who could draw. "This evens the playing field."
Other Uses
Teacher creativity is also sparked by making comics. One teacher, for instance, used comics to prompt students to describe their study habits. The comedy set-up -- and chance for rich follow-up conversation -- was the difference between how students are supposed to study and how they actually do. (See a sample comic and teacher reflections at this blog post by technology coach Brenda Sherry.)
Blackstock isn't surprised that many students who are introduced to making comics during class come back to the site after school to make and share new strips. Once you get the hang of making comics, it can be downright habit-forming. "When I was their age," Blackstock admits, "I got kicked out of class for drawing on my desk."