Career & Technical Education
Breaking Down Silos: Career Technical Education in the Era of Common Core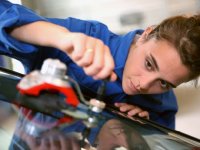 The national conversation on "college and career readiness" -- driven in part by the development and adoption of the Common Core State Standards -- has the potential to shine new light on, and bring new respect for, the role that career technical education (CTE) can play in preparing all students for success in the global community.
CTE programs offer students a relevant context for applying academic knowledge to the real world, which can both motivate and engage them (answering the dreaded question, "Why do I have to learn this?"), and help them transition to post-secondary and career experiences.
After all, as a November 2014 survey of CTE teachers by the American Federation of Teachers points out, nearly 80 percent of CTE programs offer connections between secondary and post-secondary courses (and most that don't are offered at the middle school level). And more than half (55 percent) take local labor market needs into account in program planning.
Unfortunately, as Donna Pearson argues in the March 2015 issue of Phi Delta Kappan, our Common Core implementation efforts have not yet broken down the silos that traditionally separate the academic subjects from the knowledge and skills of CTE. As Matthew B. Crawford describes the situation:
This dichotomy is certainly false, as Crawford points out, "If diagnosing machines could be reduced to simply following rules, a diesel mechanic working on heavy equipment in the North Dakota oil fields would not be earning $100,000 a year." And it doesn't have to exist. Pearson offers three actions that states and districts can take to tap CTE in meeting the potential of the Common Core State Standards.
But note that while they may be written regarding the Common Core, they can also be thought of simply as best practices -- ways to break down the silos that exist between CTE and academic subjects in many of our nation's schools. They are:
Bring CTE into Common Core (or any academic) work. CTE professionals understand the real-world applications of math and literacy, making them valuable partners in the learning process.


Foster communities of practice among CTE and academic teachers. When teachers are encouraged to work together around a common mission and provided the conditions allowing them to do so (such as common planning time), they will likely begin to trust, respect, and learn from one another.


Equip both academic and CTE teachers with evidence-based instructional materials. High-quality, targeted professional development experiences are vital to the success of the Common Core -- or any educational initiative. And partnering CTE and academic teachers in such experiences will allow them to work together to promote academic rigor while situating learning in real-world contexts.
Toledo Technology Academy
One place that has put these actions into practice is Toledo Technology Academy (TTA). This career-tech school, part of the public school system in Toledo, Ohio, formed in 2002 as the result of a partnership between the district, local unions, and the business community. The school offers a STEM curriculum (science, technology, engineering, and math) for grades 7-12.
And in addition to traditional academic subjects, it offers courses in subjects like robotics, technical communications such as technical sketching and CAD (computer-aided design), electromechanical devices, computer-integrated manufacturing, and much more.
But early on, the school had a major problem: While they went through the motions of working together, teachers didn't get along. Academic teachers (who tend to have college degrees in teaching) and technical teachers (who tend to come from industry) had trouble seeing eye-to-eye, lacking a common point of reference.
The faculty's differences frustrated a series of administrators, until the school's governing board hired Gary Thompson, a 34-year veteran of GM with a background in facilitating labor-management partnerships. A graduate of a vocational high school, he was also sensitive to the divide between the academic and technical worlds.
And he approached his job at TTA in the way he had always worked -- listening to others, helping them find common ground, getting them to realize that they were on the same team. For example, he brought together the entire faculty weekly to discuss students and plan lessons. He made sure academic and technical teachers talked to each other daily, asked questions about what their colleagues taught and looked for ways to connect and support each other's instruction.
Today, the school has a strong culture that emphasizes the importance of working together among both its faculty and its students.
The Bottom Line
As we move forward in the era of college and career readiness, we should look to schools like TTA that respect and prioritize both academic learning and CTE for inspiration. Their students -- half of whom come from low-income families -- are thriving.
Approximately 96 percent of graduates continue in some form of post-secondary education, with many working while doing so. And all graduates leave the school with a career portfolio that, in addition to a high school diploma, includes certifications showcasing professional expertise and letters of recommendation from teachers and the company where they did their school-sponsored internship.
The portfolio is perfect for presenting to either prospective employers or college admissions officers. In other words, they truly are "college and career ready."