New Teachers
Back to School: Preparing for Day One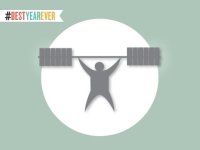 I've had first days in the classroom that were pure poetry and others that were pure... well, you know. There are things out of our control that can make that first day a tough one for sure. But there are also things we can do beforehand to set the stage for success.
As I reflect, those great first days were usually after a summer where I spent extra time setting up, designing bordering for student work displays, dusting each individual book in the classroom library, fine-tuning and perfecting those beginning lessons: the handouts, the pacing, and the mini-lessons.
And then there have been a few times where I really, I mean really, dove headfirst into enjoying my summer, returning from an island or road trip just days before the start of the new school year.
And you know what? Both scenarios are great.
Although we're probably a lot less nervous that first day the more prepared we are. I also know students will have a better initial impression of me with that first scenario.
If we are rested, relaxed, and ready it will show, and it helps keep the kids calm and focused. (And let's face it, as anxious as we teachers are that first day, the students are much more nervous than we could ever imagine.)
And oh, those first impressions -- they stick like gum on hot asphalt. So here are some tips for giving the best impression, Day One:
#1 Be Organized, Tidy, and Ready
This will immediately stand out to students. Wow, supplies are all organized and labeled, books are on shelves, and look at her desk! Everything has its place and all is in order.
Be sure to also have ready your procedures and hard rules (no gum chewing or cell phones) so you can share them at the very start of the day. This will avoid that preventable and awkward moment with a new student.
#2 Have Too Much and Too Many of Everything
Make extra copies, just in case. There is really nothing worse than being one or two copies short. Panic! Need name tags or construction paper? Get the extra large pack (you can use the leftovers for another project). Have a surplus of pens or pencils handy for those kids who have already misplaced or lost theirs.
#3 Overplan the Lesson
Timing is everything. And the last thing you want is for there to be six minutes left before the lunch bell and have little to nothing for students to do. You don't want them to see you scrambling for a sponge activity not connected to the prior teaching so overplan the day. And the best part about this? You'll have most of the next lesson already done.
#4 Rehearse
If your "welcome to this class" speech includes new material (a new procedure or content -- something you've never introduced before), practice. If you are a new teacher, this is imperative. By rehearsing, this gives you an idea on pacing, one of the greatest challenges for most beginning teachers.
If you are using technology, arrive early to make sure all is in place and working.
#5 Be Ready for Anything and Everything
Don't think you will need the dean's or assistant principal's phone extension that first day, or that replenished first-aid kit, or have to directly address name-calling with a student five minutes after the bell? We wish, but unfortunately, it happens. I had the experience one first day of breaking up a fight between two students -- such a bummer, but sometimes a sad fact. Students will be impressed if something goes awry and you handle it quickly, and with wisdom and grace.
#6 Start Learning Names Immediately
The sooner you dive in on this task the better! I am a visual learner so making a seating chart right away and using their names as much as possible helps. Here's some further suggestions and techniques that you might find helpful. Many teachers will tell you that getting names down as soon as possible helps with discipline and, sure, this is true. However, I believe that rather than assisting in an authoritative way, it more importantly sends the message loudly and clearly that you are interested and that you care.
First Impressions of Students
That first day, a student sometimes enters the room too loudly, says something slightly abrasive, or ignores an instruction. Then comes Tuesday morning, and it's my job to wipe the slate clean. Modeling forgiveness and kindness and giving a kid a second (third, fourth...) chance is part of the job of a teacher.
Over the years, I've also heard a good number of teachers talk about how they don't like to get any information from former teachers about incoming students. I was one of those teachers as well. Every child deserves a chance to make a new first impression.
Please share with us your strategies and best practices for that first day of school in the comments section below.