Project-Based Learning (PBL)
In Australia, a School Designed to Excite and Engage
April 24, 2015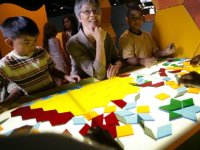 As I was preparing to visit Australia for the first time recently, two educators I admire told me about a public elementary school that I simply must visit. One of these colleagues, a big thinker in school reform, said that this just may be his "favorite school on the planet." A little web research, a few email exchanges, and a long flight later, I was on my way to Wooranna Park Primary School, located just outside Melbourne in the neighborhood of Dandenong North.
Here are some field notes and inspirations from a school that lives up to its vision of being "a place of optimism, excitement, and challenge."
Meet the Maestro
Principal Ray Trotter doesn't seem to mind if school visitors compare him to Walt Disney. Since he arrived at Wooranna Park in 1987, he has been transforming learning into an adventure for a diverse, multicultural community. The school has become well known globally for its inspired approaches, but Trotter isn't coasting on success.
He remains unflagging about getting school right, and impatient with practices that "undermine the self-confidence of children. We need to change the system, not the child." He takes his work personally: three of his six grandchildren have been students here.
From the outside, Wooranna Park, built in 1971, looks boxy and old school. That impression changes as soon as you step inside and see that the original walls and halls have been moved and reconfigured. There's room here for all kinds of learning -- individual, collaborative, hands on, digital. Children and teachers move from space to space throughout the day, depending on the situation or activity.
video
A few learning spaces have been dramatically reconfigured with immersive environments to fire up the imagination. There's a giant red dragon boat, for instance, that students can guide using Google Earth or the Oceans view of Google Maps. In another area, there's an interactive space station, complete with flight simulator. The newest environment, outfitted with green screen and digital tools that can be used for seemingly unlimited purposes, is known as The Enigma Portal. Although these spaces look and sound elaborate, the budget has been modest. Trotter and volunteers from the school community have done much of the work themselves.
Trotter credits education futurist David Thornburg as the inspiration for these Stimulating Learning Platforms. (Thornburg describes his own Holodeck in this Edutopia video, The Evolving Classroom.) The idea is to leverage physical spaces to engage children's imagination and immerse them in life-like situations.
If they decide to steer that dragon boat on a voyage to New Zealand, for example, they'll have to chart the best course, respond to compass readings and real-time weather, and grapple with a host of other challenging questions.
When the principal went looking for someone to facilitate learning in this digital playground, a tech-savvy educator named Kieran Nolan stepped up to become the school's eLearning architect. (Who could resist a "looking for geek" tweet?) In his teens, Nolan sometimes "hacked" his own education if school wasn't giving him a reason to learn. He now spends his days helping students engage with everything from virtual reality to programming to 3D printing. To extend learning beyond the regular day, he has introduced weekend Coder Dojo events.
Along with the school's transformed spaces and technologies, learning processes have also been reimagined at Wooranna Park to foster deep questioning and student autonomy. The school shares its key practices in a series of videos that demonstrate how it approaches small-group workshops, personalized learning, differentiated instruction, and other strategies that give children more voice in their own education. School reform expert Bob Pearlman has curated the video collection.
Meet Some Autonomous Learners
To learn more about Wooranna Park, I chatted with a group of certified "autonomous learners." These fifth- and sixth-graders earned that designation, they told me, by "submitting an application, showing that we're able to take responsibility for our learning, and explaining what we're good at." Once approved, they added, "We get more freedom to work independently."
What are these autonomous learners tackling?
An 11-year-old boy is investigating black holes. "It's become a passion for me," he explained. He recently tracked down NASA researchers to help him take his research deeper.
A classmate has taken up the issue of genetically modified organisms. After digging into research, she thinks it may be time to "wage war" against genetically modified foods.
Yet another girl has become interested in designing prosthetic devices after getting to know a school visitor who is a triple amputee.
It's not unusual for students to take their inquiries outside school. They have ready access to tools for connecting, such as Google Hangout, and don't have to wait for adults to make connections for them.
Recently, the school office received a call from an esteemed medical researcher who had received multiple emails from a Wooranna Park student. "What's going on at that school?" the researcher wanted to know. "Nobody gets through to me -- but this student did." She wasn't calling to complain. Rather, she was making arrangements for a visit.
"Once students are engaged," Trotter says, "you can't stop them from learning." By continuing to ask, "Why can't school be as exciting as Disneyland?" this visionary principal reminds us that wishes can indeed come true, even within the constraints of public education.
Worth Considering
Wooranna Park offers a number of strategies that other schools can study and adapt for their own context. If your learning community wants to use the Wooranna Park story to spark conversations, here are a few questions worth considering:
What is your school's raison d'être? Wooranna Park considers its statement of purpose to be an organic document.
It identifies not only key strategies but also key sources of inspiration -- ranging from John Dewey to Reggio Emilia to Yong Zhao.
How do you encourage your students to be autonomous learners?
Do you ever treat students as professors? Starting in the primary grades, Wooranna Park students understand how to teach others. You might see a ten-year-old teaching other kids (and adults) how to play Minecraft, or a kindergarten student leading a lesson in Korean.
Do your assessment practices build students' confidence or undermine their self-esteem? Why?
What makes your learning environment a place of optimism, excitement, and challenge?
What are your thoughts and ideas on this post? Please share in the comments section below.