Service Learning
Service Learning: Growing Action From the Roots of Passion
Starting with the roots or required elements of an environmental learning project, teachers can ignite students' passion and guide them toward creating something powerful and meaningful.
In 2007, my co-teacher and I noticed that students felt increasingly like the world was "happening to them," as if they had no ability to affect positive change. This, coupled with the question "When am I going to use this?" led to the inspiration which has become the Fifth-Grade Environmental Project.
Our goal was to create an educational model in which students' passions are the driving force, empowering them as global citizens. While we have limited time to cover required curriculum, we are committed to finding ways of embedding curriculum in "real-life" applications within the project.
While the project's topic changes each year, the roots (or required elements) are the same, and the work evolves based on student passions, allowing each individual to find and contribute his or her gift to the whole, and reaffirming our belief that together we are smarter.
Ignite the Passion
As students become experts on a topic and discover why something is an environmental issue, their passion is sparked. They dive deep into their research and start thinking critically about how they as individuals, and how their class as a team, can affect change. We form research groups of 3-4 students and assign each to different aspects of the topic.
In kindergarten through second grade, research could be teacher directed, with a group-created fact chart and paragraph writing in class. In grades three and four, teachers might assign one class paper and have each student research one element. For fifth grade, we've found that group work benefits the depth of the research, and that the process of learning to collaborate is similar to what adults experience in the working world.
Community Partners
Key to making this a meaningful experience is finding and engaging with community partners. While students are engaged in research, teachers can contact nonprofit organizations or scientists related to the topic. Partnerships are mutually beneficial -- the partners are inspired in working with students, and their involvement adds another level of wisdom to assist in research and opportunities for enhancing the project learning and impact.
Mapping the Road
Once the class is "knowledge-full" and linked with community partners, students plan the project elements. Begin by explaining the roots and presenting the ideas shared by your community partners, encouraging students to brainstorm ways of developing their project and incorporating these elements.
Educate
Now the root is:
This root can be as simple as setting up your classroom as a living museum for others to visit and learn, or as involved as arranging a presentation. Students can create a website or make a short film. This piece is critical to understanding how their passion can ignite change in others. The process allows students to find their voice, develop public speaking skills, and use what they learn in a meaningful way.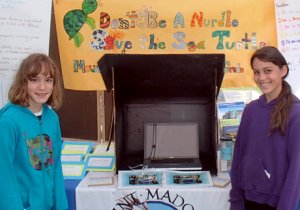 Photo credit: Jessica Campbell and Mount Madonna School
Students hosted an Earth Day Festival booth to share their project and educate the public about sea turtles, the threats they face and what people can do with their everyday choices to positively impact marine life.
Citizenship
Here is how you might present the next root:
The citizenship root has two pieces:
Action
Ask students to exercise their rights and use their voice by contacting elected representatives about issues related to their project topic. The precise form of this contact can vary with student age and ability:
Formal business letters for older grades
A guided, simplified template
Student-drafted, teacher-written letter for younger students
Speaking at council meetings
Starting a petition
Students write with passion and detail on topics that they care about. They're empowered when they receive letters in response and realize that their voice matters! This root can lead to other important lessons, such as the birth of the Constitution and the different levels and roles of government.
Service
Involve students in what can they do individually, as a class, or as a school to walk their talk. This is a great place to connect with community partners and organize a community cleanup, replant habitat, gather supplies, or even incubate wildlife for release.
In addition to the aforementioned elements, we ask our students to give back to project supporters by finding ways to fundraise. Generally, the class chooses to create a humorous movie to educate others, with proceeds from the movie sales benefitting a nonprofit organization that is working on the topic. In our class, this leads to the creation of a mock company with different departments giving students even more responsibility. It's great to engage a math whiz in the sales department, or artists with the art department, or your gifted writers with the public relations group, or your techies with the production.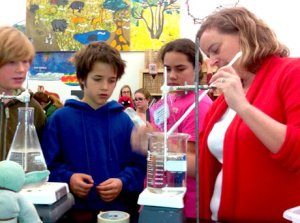 Photo credit: Jessica Campbell and Mount Madonna School
Working with 9th-grade buddies and the high school science teacher to test the biodegradability of bioplastic and determine if such plastic entering the ocean would pose less of a threat to sea turtles.
Another component is adding a science experiment root to engage students' critical thinking. This can be a class science experiment or small-group experiments where students think critically about their research and how to simulate and generate proof around a threat related to their topic.
In the end, this environmental curriculum is really a project of passion where we watch our students become leaders empowered to make change, and become conscious citizens in the world that they inhabit -- and have fun while doing it! You never know where this project might lead you. Recently a class went to the White House to receive the Presidential Environmental Youth Award for their work to protect the sea turtles and enhance the education of impoverished Indonesian village children who live with the nesting leatherback sea turtle. These children took their passion and made change in the environment and in the lives of others thousands of miles away.
Has your class or school undertaken similar projects? Please tell us about it below.