Teaching Strategies
Election 2016: Lesson Plans and Digital Resources for Educators
Teach the 2016 U.S. presidential election with this curated collection, featuring lesson plans, multimedia, and interactive games for K-12 students.
January 26, 2016
Updated August 19, 2016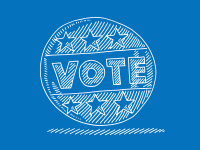 This election has been unlike any in modern history. According to a survey of educators by Teaching Tolerance, the campaign's contentious tone has spilled over into classrooms. Presidential elections are exciting for students and provide an opportunity to discuss and debate a range of issues in the classroom. But this year, that excitement is more likely to turn into conflict.
Setting ground rules and promoting civility in debates can help students avoid conflicts and encourage fruitful debates. How? Start with Teaching Tolerance's lesson plan Civil Discourse in the Classroom, which teaches students how to developed reasoned arguments from unsubstantiated claims. You'll find a wealth of tips and how-to articles on their Election 2016 Resources page, as well.
Once you've covered these basics, students will be better equipped to explore, discuss, and debate the issues. The open educational resources and digital collections below can help supplement student research and examination of the 2016 election. From collections that focus specifically on this year's campaigns, to more general U.S. government lesson plans, a variety of resources are available. The good news: The majority of them are free to use.
Election 2016: Lesson Plans, Resources, and Primary Sources
C-SPAN Road to the White House: If you're looking for video clips of the candidates, this is your source. Featuring video coverage of many campaign stops around the country, there are videos for all of the Democratic and Republican contenders. Campaign 2016, a C-SPAN Classroom resource, features a rich collection of lessons and accompanying videos that cover a number of election topics, including the electoral college, campaign ads, and campaign finance.
Electoral College Lessons From Gilder Lehrman: Looking to help students understand the U.S. electoral map? The Gilder Lehrman Institute of American History has a series of lesson plans -- How We Elect a President: The Electoral College -- for elementary, middle school, and high school students. All are free for educators and students who have signed up for a subscription. Additionally, an interactive presidential timeline and a database of election results are available. The resource "Every Four Years: Introducing Presidential Elections" is a wonderful introduction for middle school students.
iCivics Politics and Public Policy Unit: From interactive games, to exciting print-and-go lessons, this collection is the perfect place to start learning about elections for elementary and middle school students. Plus, iCivics has also developed a page full of Election 2016 resources for teachers. Try a mock election in your class, have kids play the Win the White House election simulation game, or learn about how voters evaluate candidates. All resources are free for educators to use, but the site does require registration.
Great Free Resources for Teaching Election 2016: With links to in-house content, as well as classroom-friendly political websites, this New York Times Learning Network collection will enable students to conduct in-depth research into a variety of election issues. From developing campaign advertisements and editorial cartoons, to lessons that explore the impact of the youth vote, these activities offer students eye-opening opportunities to research today's unique political climate.
Learn Everything About Voting: Citizens, Not Spectators, a program from the Center for Civic Education, is designed to promote voting among young Americans. To encourage civic participation, the Center developed a useful curriculum for students in grades 4-12 designed to "demystify the voting process," with lessons that help students understand voter registration, how voting works, and the steps it takes to become an informed voter.
Iowa Caucus 101 Curriculum: Developed by Iowa educators, Caucus 101 is a comprehensive curriculum that's designed to provide insight into the first contest of the primary season. The curriculum is designed to be integrated over one week with options for 90-, 60- or 30-minute lessons each day. Also, check out New Hampshire Public Television's resources for the 2016 state primary, which explain the history and importance of the country's second primary contest.
Additional Election and Political Classroom Resources
Newsela Student Vote 2016
National Education Association Elections Page
How are you planning on incorporating the 2016 Election in your classroom? Share resources, ideas, and tips in the comments.