New Teachers
7-Step Prep: Make a Weekly Plan for YOU!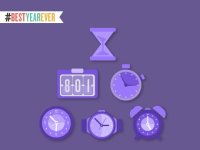 You know what it's like when you go grocery shopping tired, hungry, and without a list? How all of the sudden, your cart is filled with bags of potato chips and a large assortment of artichokes on sale that you're just sure you'll use at some point? And how you're munching through half a ripped-open package of cookies as you mosey down each aisle like some sort of supermarket zombie with outstretched hands? Yeah, been there.
Now think about what happens instead when you enter on a full stomach, with a meal plan and clear list in hand. Better outcomes are ensured -- you eat healthier, save money, and waste less food. Plus, you go home without those telltale crumbs across your chest.
Let's apply that same clear and prepared mentality to planning for a week of your time.
I already know you plan incredibly well for your students, but how about all that other time? Like before and after school? And during prep periods? Here are seven prep steps to help you maximize your non-student time. Your goal is to produce a weekly worksheet, an hour-by-hour view of your time, and to-do's for the week ahead.
1. Select a Tool to Plan Your Week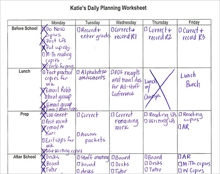 Photo credit: Maia Heyck
Handwritten planner template. (Click on image to enlarge.)
You could use a handwritten template, go totally digital, or use a typed-in template. All three options are provided as examples (click on images to enlarge). For the purposes of illustration, I will work through my colleague Drew's Weekly Worksheet (PDF template in #3 below) for the remainder of this post. The choice is yours, but whatever you choose has to give you a clear view of both your time commitments and the things you actually have to get done -- all in one location.
2. Have a Meeting with Yourself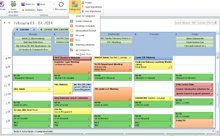 Photo credit: Maia Heyck
Digital planner template. (Click on image to enlarge.)
On Thursday or Friday, take 30-45 minutes to sit down with everything you've accumulated during the week. You know, the post-it notes, random pieces of paper handed to you by students, memos from the office, and all of those homework assignments. Take your stuff and sort it into short-term to-do's, long-term to-do's, and follow-up from meetings. Slowly get it all in the right places. Drew explains:
Your goal is to leave this meeting with your following week's worksheet totally ready.
3. Set Priorities for the Week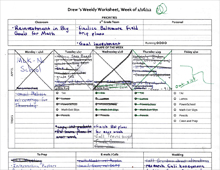 Photo credit: Maia Heyck
Typed-in planner template. (Click on image to enlarge.)
I'm not talking about teeny-tiny to-do's here. I'm talking about what matters most. Look at Drew's Weekly Worksheet to the left
(click on image to enlarge)
. He is focused on "reinvesting students in Big Goals for Math" and "finalizing Baltimore field trip plans." What are your priorities? Boosting student attendance? Improving your classroom culture? And what about the personal stuff, like planning a baby shower or helping your parents get to the doctor?
4. List Out All Your Meetings and Appointments
Hopefully, you have been keeping a long-term calendar, but if not, empty your brain and your email inbox of all grade-level meetings, report card nights, and staff retreats. And don't forget your own child's pediatrician appointment or your brother's birthday! I am going to boldly recommend that you mix your professional and personal calendars into a single location to help you avoid collisions!
5. Determine How You Will Use Your Free Time
I get it. You don't have much "free" time. But we need to make the most of what we have. So list out how you plan to use your before-school, prep period, lunch, and after-school time -- for the entire week. At a loss? Try using some of the strategies here. Drew carefully plots out his to-do's by category: To Prep, Emails/Calls, Wedding (congrats, Drew!), Errands/Home/Personal, and Next Week. I especially love his "To Prep" category.
6. Allow Flexibility for the "Hallway Ambush"
You know what I'm talking about -- when you can't even take an innocent trip to the restroom without someone stopping you to do something? Take your weekly worksheet with you wherever you go so that you can always write everything down in the same place. Keep it on a clipboard, folded in your pocket, stowed in an Arc notebook, or stashed in a planner. This is why you see so many changes on Drew's weekly worksheet!
7. Review and Adjust Daily
Things change. Life happens. At the end of every school day, sit down for five minutes and cross off what you've accomplished, roll over what didn't happen to another time slot, or decide to delete something you had intended to do. It happens to all of us.
Your teaching week will never go exactly as planned. Plus, that would be boring! But by planning for a week at this level of detail, you will actually bring greater flexibility to your job -- and your life. Emergencies and last-minute requests won't faze you, and you may just decide that you can relax on the couch in the evening after all -- if you plan it in, of course!
How do you plan your week? And how successfully do you manage the ever-changing details?