Arts Integration
7 Leadership Skills Fostered in Arts Education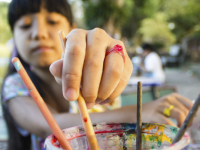 In my art classes, I have the privilege of working with students who have become fired up and eager to take on urgent issues in their artwork. Whether it's the literacy rates in this country or their classmates cleaning up after themselves on campus, the students believe that art is a great way to communicate their concerns about the world and their community.
My hope is that my school and schools elsewhere recognize this contribution and also how it demonstrates leadership potential. A question to consider is this: As educators, do we look to the arts as a way of developing student leadership?
Preparing Students for Life and Leadership
I believe that students working in the arts are given a rigorous education for developing a wide range of leadership skills. In addition to skills such as organizing and public speaking, the arts teach other skills that encourage students to take risks and help prepare them for becoming courageous leaders.
Leadership is most needed when facing a complex problem or a new experience that can't be easily quantified. Students are not exempted from the challenges faced by adults, and in their education, they learn about intractable problems such as economic inequality or global climate change. Young people also have problems that are particular to youth and their generation such as peer pressure and developing new relationships, and those challenges should be on the table as well.
We need people who have the skills and abilities to work well with others, and to step forward and lead with new ideas and initiatives. No matter the subject we teach, it's important that we support students in developing to be those necessary heroes.
Arts Education: Developing Leaders
What are the opportunities for students to become leaders? Beyond the conventional roles such as student government and team captains, leadership emerges when we encourage our students to take on big issues that have an impact on the world outside the classroom. This type of experiential education is crucial for developing leadership in our students, and it also energizes the classroom and motivates learning.
Once we encourage our students to take on big issues, we need to provide them with the skills to address those issues in a meaningful way.
The arts are a great way to teach students these leadership skills. While science and mathematics seek to quantify the world, and history and language give us the tools to understand the world from a human perspective, these disciplines are all based on rational discourses about the world as it is. We turn to the arts to help us understand and gain perspective on what remains: our emotions, our unanswerable questions, and the general mysteries of being alive.
Here are seven ways that working in the arts can give students the skills to become great leaders:
1. Creativity
While this might appear to be the most obvious skill, we should remind ourselves that creativity is not just about expression and aesthetics, but also about problem solving. While other disciplines encourage creative solutions to solving problems, the arts seek to find solutions beyond our consensual understanding of the problem, pushing against the margins of what might be provable. Artists are pioneers of inventing and testing out new ideas and sensibilities. This quality makes for ideal leadership.
2. Risk Taking
If we expect our students to be truly creative and seek out those new ideas and sensibilities, we must encourage and reward taking risks. One of the most rewarding outcomes of teaching students in the arts is that it gives them the ability and the confidence to do things that are new and unorthodox. Peer pressure doesn't go away when one becomes an adult. Great leaders, when necessary, will go against the mainstream in terms of thinking, and take the chances of having their ideas and actions ridiculed or criticized.
The arts attract students who are often marginalized because they have already experienced the challenge of being rejected or shunned. They have gone through the storm and have less fear about being different and embracing new ideas.
3. Learning to Be Yourself
One of the great challenges of being a leader is, as the saying goes, "It's lonely at the top." Students who are nurtured through the arts must ultimately turn inward and know themselves, face their demons, and ultimately discover their own potential. While we celebrate collaboration and group effort, those approaches are more successful if each person in the collaboration has gone through the solitary process of self-reflection and gaining self-knowledge.
It is easier to make a decision that might not be popular if leaders are willing to take risks and stand on their own -- and this is often the very definition of an artist (painter Vincent Van Gogh and dancer Martha Graham come to mind).
4. Understanding the Power of Myth and Symbols
In art classes, we encourage students to work with icons, shapes, and archetypes, giving them the ability to understand how these images affect human culture. Great leaders have an understanding of how myths and symbols shape our understanding of a complex idea or sensibility that is hard to otherwise express.
This ability to tap into myth and symbology is always powerful -- and often poetic and beautiful as Martin Luther King, Jr. showed us. (It can be dangerous, too, as Hitler demonstrated.) Artists, poets, and musicians have a strong sense of what moves and shapes us, and being able to tap into this can be powerful for student leaders to learn and master.
5. Observational Skills
Great leaders have the ability to be aware of moods, attitudes, and the world around them. In arts education, we encourage our students to be keen observers. Also, it's often the case that students who are drawn to the arts are introverted yet also skilled observers. It is imperative for teachers to nurture this gift of observation and further develop it in students when necessary. We must also be able to identify, develop, and productively channel the role of the quiet influencer that our most observant students often play.
6. Project Planning
Project planning is the most pragmatic of the skills taught in arts education. Students are encouraged to consider and commit to projects that might not see fruition until weeks or sometimes months later. In addition to utilizing strategies such as backward design, goal setting, and implementing an effective process, project-planning skills develop character and fortitude in our students who know that they are in it for the long haul.
7. Collaboration and Appropriation
While no other discipline prizes originality more than the arts, our discipline knows that referencing and emulating those who have mastered their craft is part of the learning process. Learning from those who came before you also lends itself to learning and working with those around you. The idea of plagiarism or "copying" becomes less an issue, and students learn that what separates "I" from "you" is blurred if not illusory. This ability to see oneself in others, to learn and work with others, is key to understanding leadership and a skill that we should continue to encourage and build upon in our classrooms.
What are your thoughts and ideas on this post? Please share in the comments section below.