Education Trends
A Two-Gear Construct for Envisioning Blended Learning
May 20, 2014
Updated May 14, 2014
Teachers using blended learning correctly can be one of the best ways for students to meet the challenge of the Common Core and develop ownership of their learning. But what does "done correctly" mean? If a teacher moves from a traditional teaching style (Point A) to using blended learning correctly (Point B), what does Point B look like? What is the optimal blended learning model? Two years ago, I set out to answer this question, and what I learned greatly surprised me.
My organization, PowerMyLearning, conducted a pilot in 2011-12 that worked with teachers on incorporating blended learning into their classrooms. Our goal was not technological but pedagogical. This pilot was successful (as described by David Bornstein in The New York Times), so we then expanded the work to other regions. I spent that year traveling to our partner schools, trying to understand what the optimal blended learning model looked like. And what I realized was that I was asking the wrong question. Point B was not a "model," since the optimal model depended on the teacher and students, but rather needed to be a "construct." So PowerMyLearning set out to build a construct that would be elegant, like E=mc2, and that would hold from kindergarten through high school.
After more than a year of discussions and visits, we derived our construct. It includes two cycles:
The Personalized Instruction Cycle
The Student-Driven Learning Cycle
Envision these cycles as gears that are interlocked and running as one to drive student achievement and student ownership of learning. Neither of these cycles requires technology, but both are greatly enhanced by using technology.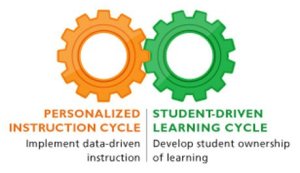 Credit: PowerMyLearning
The Two-Gear Construct
The "Personalized Instruction" Gear
The first gear represents a cycle in which educational activities are selected for each student from a vast array of choices, then instruction is delivered through a number of modalities, then student learning is assessed, and finally that assessment data is used to select a new set of activities for each student so that the cycle can repeat again. This cycle can be driven by a teacher, parent, or computer algorithm. For teachers, technology can help effectively propel this gear, as it can provide teachers with:
Actionable data about students' areas of need.
A range of high-quality granular digital resources to address these needs.
The ability to assemble these resources into playlists that can be assigned to individual students or groups of students.
The ability to assess student mastery and time-on-task in order to start the cycle again.
The "Student-Driven Learning" Gear
The second gear represents a cycle in which students drive their own learning at their own pace, receive immediate feedback, and try again. Students can find help with a topic they are struggling with in school (self-remediation), or they can explore something based on their own interests (self-enrichment). This cycle promotes the development of student ownership of learning -- recognized as an essential element to college and career readiness. A large majority of students require scaffolding and support to become owners of their learning, and thus teachers and parents have an important role to play.
Like the first gear, technology can also help to effectively propel this gear. It can provide students with open access to a wide range of high-quality educational resources and the freedom to explore those resources, as well as opportunities to receive immediate feedback.
The Shifting Prominence of Each Gear from K-12
PowerMyLearning's construct holds from kindergarten through high school because the gears shift in prominence. In children's early years (grades K-3), personalized instruction is the more prominent gear and is propelled by teachers and parents. At this stage of a child's development, student-driven learning often requires significant scaffolding by parents, teachers, or algorithms (think adaptive learning software).
By the end of high school, the student-driven learning gear should now be more prominent with students fully owning their learning and requiring little to no scaffolding from teachers, parents, or algorithms. Personalized Instruction should play a smaller role in students' overall learning, and learner-control should now be at the level required for college and career readiness.
The Tools to Succeed
For technology to play a critical role in driving these two gears of learning, it needs to be designed to support both gears at the same time, while not tying a teacher to any one particular implementation model. This means making thousands of granular digital activities that are easy for students, teachers, and parents to find and use. It means making true personalization possible with tools for modifying, building, and assigning customized playlists of learning activities. It means ensuring accessibility both inside and outside of the classroom. Our free K-12 digital learning platform, PowerMyLearning Connect, is one such tool that addresses these needs.
We have seen that driving both gears through our platform can make a real impact on academic achievement. Last year, our partner schools increased their state-wide ranking by an average of 10 percentile points as determined by the percentage of sixth grade students meeting proficiency in math. Also, students displayed increasing ownership over their learning throughout the year as shown through surveys.
Nearly three years after trying to identify which blended learning model worked best, it's apparent that no one model can guarantee success for our students. Rather, we need to focus on personalizing student instruction and driving student ownership of learning in an integrated way to best prepare our students for college and a career.