Technology Integration
12 Awesome Edtech Apps
An edtech teaching toolkit should include reliable tools for your needs and circumstances. Whether that includes Kahoot!, Screencast-O-Matic, or Scratch, it's ultimately about your teacher-student relationship.
January 22, 2016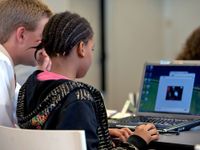 Photo credit: US Department of Education via flickr (CC BY 2.0)
Build an edtech teaching toolkit that works for you with reliable tools that suit your needs and circumstances. Learning should focus on content, not on figuring out how a tool works. While I'll probably use 100 tools during any school year, I have 12 in my trusted toolkit, listed here in no particular order. I've also asked teachers on Twitter about their favorites, which I've shared at the bottom of the post.
1. Kahoot!
My students beg to play Kahoot! But, to me, the power is seeing how many students know the answers and reteaching on the spot.
Tips:
Play each Kahoot! set more than once, randomizing the order of questions and answers. This helps students practice and learn.
Let students create and share their own games.
Embed videos and graphics relating to the topic to improve retention.
2. Haiku Learning
Many teachers who have moved to blended learning have a learning management system (LMS). I couldn't live without Haiku Learning, but there are many LMSs out there. (Teacher Annette Lang tweeted that she loves her Canvas LMS.) Find a LMS if you're moving online for learning.
Tips:
Find an LMS that connects with your gradebook system (I link Haiku with Powerschool).
Find a system that lets you reuse your material between classes and from year to year.
Find a system that will quickly show you the grading and messages that need to be handled.
3. Wikispaces
Wikispaces has been my indispensible wiki tool since 2005. My class wiki is the platform where my students publish to the world.
Tips:
Use templates. When giving an assignment, ask students to use these so that formatting and details are ready to go.
Create the landing pages for assignments yourself (as I did on our 2015 Hour of Code Lesson Plans).
Archive work from year to year so that students can see prior work and level up.
4. Screencast-O-Matic
While I use ScreenFlow to record tutorials (mostly because it lets me capture my iPad or iPhone screen as well as my computer screen), for my students I have only one choice for quick screencasting: Screencast-O-Matic.
Tips:
Students can download short film and easily upload it to your LMS to document work.
Have students record audio to explain their work or share their thinking about a project.
Teachers can also screencast to add their voice while evaluating student work.
5. Google Classroom and Google Drive
Google Drive includes Google Docs, Spreadsheets, Presentations, Drawings, and Forms. I want my students to quickly collaborate and share, and Google Classroom is a powerful new management tool that makes sharing and management of student work on Drive much easier.
Tips:
Alice Keeler, author of 50+ Things You Can Do With Google Classroom gave me this power tip: She doesn't have students turn in work before they're done (it will stop their editing on the document).
For a powerful, engaging way to teach, watch students and give comments as they work.
Teach students to copy (Ctrl + C) and paste (Ctrl + V) between tools.
6. PowerPoint With Office Mix
PowerPoint is a longstanding presentation tool. The free Office Mix tool turns this into a powerful tutorial and teaching tool. (Most of the PC-based videos on my YouTube channel were created with this tool.) Office Mix combines video, slides, animations, and your voice into a simple video.
Tips:
When you need to change one piece of information, just re-export the video with your quick correction. (This is the greatest aspect of the system.)
You can record quick screencasts inside Powerpoint by clicking the screencast button.
Use animations and draw on the screen. They become part of the video.
7. Google Chrome
The Google Chrome web browser has so many tools to help students with learning, research, and academic pursuits! I teach students to use the extensions for everything from grammar check (Grammarly) to research collection (Diigo) or finding the perfect color (Color Picker Eye Dropper).
Tips:
8. Voice Typing
Students should learn how to type onto the computer with their voice. Many who struggle with writing by hand or keyboard have incredible verbal expression skills. This one capability will empower and engage more students in writing than anything else we can teach. (I use this when I need to quickly draft a blog post.) Several tools unleash voice typing: Mac's built-in Dictation, Google Docs' Voice Typing tool that you can find inside the Chrome browser, or software like Dragon Naturally Speaking.
Tips:
Use headsets!
Make signs that students can put on their computer to keep others quiet when they're voice typing.
Teach students to say the punctuation they need.
Make sure that they learn to "draft" with their voice by speaking without stopping. If they make a mistake, they should leave it and come back after they're finished speaking into the computer.
9. Socrative
Socrative is another formative assessment tool that I use to see what students know at that moment. (If I had 1:1 iPads or taught math, I'd likely use Formative instead. If I had no technology, I'd use Plickers.)
Tips:
Write a problem on the board and use the open-ended tool to see what students know. No planning ahead, and you have it there!
Prepare quizzes that you can use with students.
Give a practice quiz and see answers come in as students work. Help those who are struggling before they get too far into the quiz so that they can do it correctly and see progress.
10. Scratch
Scratch, by MIT, is my favorite tool for teaching coding because of the strong Scratch user community. The environment makes learning coding with Scratch more like that of learning a higher-level programming language.
Tips:
Save time by having students run their program and record an eight- to ten-second screencast to demonstrate their learning.
Teach students to use Scratch games by other students and to look at the code.
Code can be dragged into the student backpack and reused in their own programs just by changing a few names.
11. Canva
Canva is a powerful design tool. This year, my students made infographics and blog graphics with Canva. I like its predefined sizes -- whether we're using Twitter, Facebook, or designing an ad, the templates and sizes are already set.
Tips:
You can purchase stock photos, but students can also upload and use their own images. (My students are proficient at Adobe Photoshop, so they often make the graphics there.)
Canva has some excellent lesson plans and ideas. (Full disclosure: I designed a few lessons for them in 2014.)
When you've finished an image, you can click "create a copy" and reuse it.
12. Crescerance
Crescerance is the tool that my students use to create apps. While we often write content in Google Docs and design graphics in Photoshop, Crescerance can put it all together.
Tips:
Use Trello to manage the workflow and organize work between students.
Consider a "guild" approach where some students develop graphics, others write content, and others program.
Crescerance has an app that lets you test mobile apps. Even if you don't want students' app to go live, they can see and use it in a safe, private platform. (You can see how this works with my apps from last year by using their app codes.)
What Teachers Say
I asked teachers on Twitter about their favorite apps. Shelley Stanton and Scott Anderson like Seesaw, which is now on my list to use with students to make portfolios at the end of this year. Teachers also use Flipboard, a fantastic way to curate reading. Blendspace, Zaption, Nearpod, Thinglink, Edpuzzle, Piccollage, and Quizziz are just a few that have made it into teacher toolkits but aren't in mine yet. (See the rest of the list here.)
Pick easy-to-use tools that work for you. Tell other teachers what's in your toolkit. And remember, it's about relationship with your students. You're a teacher, not a tool, so pick tools that help you do your job better.