Project-Based Learning (PBL)
Using PBL to Teach About Homelessness
A project-based learning unit on homelessness can provide middle and high school students with valuable information and foster empathy for the unhoused.
When the Covid pandemic reached our part of the world, many of us were overwhelmed with thoughts of public safety, our jobs, our schools, and a variety of other personal and social issues. Our worlds were seemingly turned upside down, but the consequences for people experiencing homelessness were far more extreme.
With limited services, the hungry became hungrier, the cold became colder, and the lonely became lonelier. Santa Clara County in California elected to provide temporary shelter in local hotels for families experiencing homelessness and relied on volunteers to deliver meals. When asked, my family answered the call. On a personal level, this was an eye-opening experience and one that I would share with my middle school students.
When it came time to vote on the focus of our spring project, several students shared their visions. Soon, it was settled; we would be studying homelessness. A small group of my students had personal connections to homelessness, and all were aware of the human suffering that lurks in the shadows of our cities.
The first question was how to increase visibility in a safe and impactful way. With this, my middle school students were not only working on a project; they were designing a project-based learning experience from the ground up. Project MERCY would emphasize critical thinking and compassion and include research, argumentative writing, multivoice poetry, a service-learning component, and the creation of an interactive experience for our community.
Research
We began by conducting thorough research. All of my students had witnessed people living on the streets, but many were unaware of root causes. We studied mental health, natural disasters, drug addiction, veteran homelessness, wage gaps and housing costs in Silicon Valley, and much more. A popular documentary was Lead Me Home (Netflix), and several students read the book Find Layla, by Meg Elison.
We also read articles in the Los Angeles Times, the San Francisco Chronicle, and local newspapers. Each of my students read a minimum of two books and two articles and watched two documentaries. Several went far beyond the expectation. Each student kept track of their research by creating detailed annotated bibliographies. The research phase was intense, but eventually it was time to utilize our new insights.
Argumentative Essays and Multivoice Poems
My students needed the opportunity to come to terms with their new insights, their personal beliefs, and their sense of compassion. Project MERCY had two writing pieces. The first was an argumentative essay with a thesis, supporting evidence, a counterargument, and rebuttal. The essay topics were diverse. Some students focused on more abstract questions, such as "Should housing be a human right?" Others jumped into the trenches of practicality and wrote about the homelessness of veterans and LGBTQ+ teens or the need for safe and sanitary homeless encampments.
I didn't limit topics, but I did challenge students to address a counterargument to their theses through the development of a theoretical dialogue or debate. This enabled students to strengthen their personal convictions and their essays.
The second writing piece was a multivoice poem. Students worked in teams of two to four to develop unique voices on homelessness and then performed them in class. Teams wrote about veteran homelessness, drug addiction, land-developer rights, generational homelessness, and more. This was another opportunity for my students to encounter and illuminate different points of view.
Service-Learning Projects
The service-learning projects were dynamic. Each of my students designed a service-learning project that would impact our unhoused neighbors. They worked with me, their classmates, and their families to meet their objectives. Students served food at local food kitchens, prepared and distributed boxed meals, and donated canned foods. They created more than 200 personal hygiene kits and distributed them directly to people experiencing homelessness or through a local organization called Gilroy Compassion Center.
We worked with several other local groups in Santa Clara County, including St. Catherine's Church, Safe Car Park, Reach Out, Home First, Stand Up for Kids of Silicon Valley, and Cecilia's Closet. We also wrote letters to state representatives, distributed awareness posters and stickers, and designed T-shirts. Some families visited local homeless encampments to deliver food and hygiene kits.
The goal was to engage with our community and serve our unhoused neighbors in a dynamic way. This was made possible by the energy of our students and guidance from the adults who supported them.
An Interactive Community Experience
My students wanted to design an interactive experience for our community in order to spread awareness about homelessness. We used the Tunnel of Oppression model, which can be seen on university campuses across the country. The goal was to provoke thought and elicit empathy.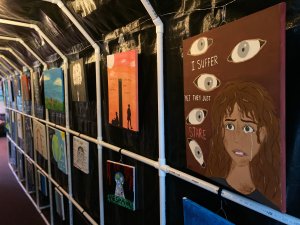 Courtesy of Teague Tubach
This year's class created a Tunnel of Despair, with artwork and audio to create a dark and unsettling mood. This was meant to show the "frightening truth of homelessness through art," according to our project brochure, which was created by seventh-grade student Layla. Some of the artwork featured scenes of destitute families, forgotten veterans, and haunting words. Outside of the tunnel, students created urban art to show their unfiltered thoughts and beliefs on homelessness.
They also re-created scores of cardboard signs, then prompted community members to create their own and post photos on social media. Other creative elements included a replica encampment outside, with a sign that read, "Would you live here?" and a lifeless human figure holding a sign that read, "Finally, I can rest." This experience was a catalyst for compassion in the hearts of more than 600 visitors.
Shadows still exist in our society, but that doesn't mean that our unhoused neighbors are invisible. When students use project-based learning to take a deep dive into a real-world issue with an emphasis on critical thinking and compassion, they can strengthen their community and radiate real change.