Collaborative Learning
Using 'Hexagonal Thinking' to Deepen Classroom Conversations
A novel activity using little more than geometric shapes can help students examine complex problems and connect big ideas.
Online and in person, hexagonal thinking can be a fresh way to boost the energy level in classroom discussions. "Your students will see things in new ways as they seek to connect wide-ranging ideas," writes English teacher Betsy Potash for Cult of Pedagogy. With many students learning from home this school year, it's a strategy that can help get kids back into a "critical thinking zone."
By connecting a series of ideas around a theme—a process where the end result often looks entirely different for each student or group—hexagonal thinking is designed to get kids thinking critically, making novel connections, debating, and providing evidence to support their reasoning. Potash describes it as a "springboard for a totally creative discussion."
HOW IT WORKS
In person, or online, the moving parts of hexagonal thinking are the same: hexagons. These can be cut from paper—try this simple online hexagon generator—or created digitally using widely available tools like PowerPoint or Google Slides (watch Potash's tutorial; she's also designed a free digital toolkit for the activity).
Next, inside each hexagon, write key terms, ideas, and connections to other disciplines or to the modern world. Alternately, leave the hexagons blank and ask students to fill them out in their small groups. To review the big ideas from a unit on global warming, for example, the terms you might select could include carbon dioxide, emissions, ice caps, methane, and so on.
Use the PowerPoint shapes tool to create bubble arrows for students to use at key intersections points in their frameworks—they'll use these connecting points to inform their written explanations later.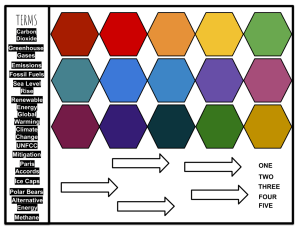 Courtesy of Betsy Potash / Cult of Pedagogy
The building blocks for a hexagonal thinking activity: terms, hexagons, and arrows.
Start by setting out the goals for the activity for your class. "Your conversations now will be about showing how and why you think the different ideas and options connect," you might explain to students. "Everyone will see things differently and that's OK. Just keep talking until you find the connections that stick."
While this activity works as an individual task, or as a partner activity, Potash favors students working together in small groups so there's "more perspectives on where to place what, which can be nice." She suggests letting students decide whether they'd like to collaborate or work solo.
Let students know that each hexagon can connect to up to six others and students should keep rearranging until they feel they've created the strongest web of connected ideas.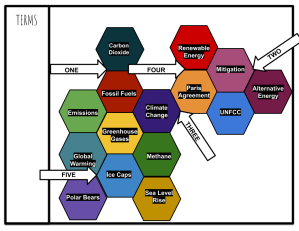 Courtesy of Betsy Potash / Cult of Pedagogy
Students can use arrows to indicate intersections between key ideas.
Once students have completed their conversations and their grids are in place, they can begin using the connection arrows to indicate intersections between key ideas. Ask them to explain their thinking related to these intersections on paper or in a Google document.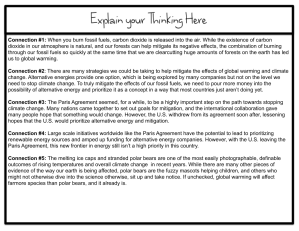 Courtesy of Betsy Potash / Cult of Pedagogy
As a means of assessment, ask students to explain their thinking related to these important intersections.
Students working on paper can glue or tape down their hexagons, or photograph the completed web of interconnections. Online, students can submit a slide of the completed web and a slide of their written explanations.
Consider a gallery walk—you can do one online using Google Slides—so classmates can share their work. Or ask each group to present their thinking on some of their key connection points.
GRADING HEXAGONAL THINKING ACTIVITIES
To arrive at an individual grade for group work, consider asking students to write short reflections about how they contributed to their group's framework, or assign a writing task where each kid delves into their thinking on how they connected themes. For a simple task that's quick to grade, ask students to present their key insights and connections via a Flipgrid voice recording.
Or try grading students' final group webs—one collective grade for each small group. Start by explaining in advance how teams collaborate in the workplace, with each team member contributing in different ways. As part of finalizing their project, ask kids to write a short paragraph explaining how they contributed and how their unique strengths—brainstorming, adding graphic elements, or leading discussions, for example—helped the activity evolve and come together. "We rarely ask students to truly collaborate in our core subjects, so we don't really create a culture of interdependence among them," Potash notes. "They don't get to use their individual gifts to contribute to a final product created by the team, although that is often what real-world projects look like."