Social & Emotional Learning (SEL)
Tools for Social and Emotional Development in Online Learning
A school counselor offers suggestions for character education and social and emotional learning during remote instruction.
Many students are facing significant social and emotional challenges during the pandemic that put a strain on their mental health. In "Character education and development during the pandemic" for SmartBrief, school counselor Mikki Rogers shares ways to help students build emotional resilience and valuable character traits like kindness, integrity, and classroom citizenship while in remote learning.
Identify and Process Emotions: By identifying their emotions in more nuanced ways, students and teachers can develop a better understanding of their triggers and needs.
To help students pinpoint their specific feelings, Rogers suggests using "character emotion charts," or visual depictions of a face experiencing different emotions. Another option is a "mood meter," which allows students to pick a color from a spectrum to visually represent their feelings and energy levels.
Probing deeper, students can take a piece of paper, fold it into sections, and then write synonyms for their "four core feelings" that go beyond typical words like sad or happy. To make the activity collaborative, break students into discussion groups to talk about what they drew and why. Alternatively, try using the RULER approach, a method developed at Yale University, to help students recognize and understand the causes behind emotions.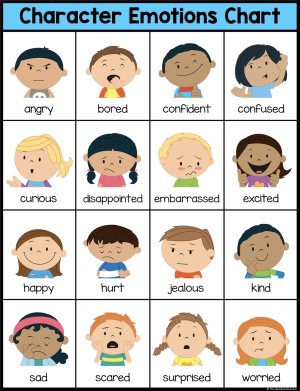 The Reading Roundup (chart) / Kari Bolt (illustration)
Develop Strong Character Traits: Helping students develop traits like empathy and resilience will help them "work through big emotions" and cope with adversity, says Rogers.
She suggests determining students' current emotional intelligence through a survey and "asking them if they can regulate their emotions, or if they can interpret how another student is feeling." After identifying their or their peers' emotions, students can begin to understand their feelings and develop healthy ways to express them. Developing greater understanding of their emotions will also help students begin to self-regulate and lessen the need for disciplinary action.
Also important is encouraging students to understand how their behaviors impact the feelings of others. Rogers describes restorative practices like having adults and students talk through incidents—and their resulting feelings— as a group then determine consequences for such behaviors in the future.
Make Time for Regular Check-Ins: More than any particular technique, building and maintaining relationships with students are vital to supporting students' social and emotional health during remote learning, says Rogers.
She suggests checking in with students through regular, informal video chats (with the camera on) so they have face-to-face interactions with educators and their peers. Her school in Bloomberg, Kentucky, also holds weekly virtual dance parties on Google Meets to bring families and fun into the process.
Because "children will often mirror the emotions of family members or other adults," counselors should find ways to support adults in the school community too, says Rogers. She has a weekly check-in with each staff member, and her school held a live online event where families could ask questions about the virus and its effect on the learning environment.